When travelling, spending a few hours at the airport before a flight is common and can often make you feel hungry. An airport restaurant can be a lifesaver, providing a chance to relax and indulge yourself. It's also an opportunity to experience the local culture of the city you're in, even if only through airport food court options.
Newcastle Airport is a bustling hub for travellers from all over the world. As one of the busiest airports in the United Kingdom, it serves as a gateway to the beautiful Northeast of England and beyond. Whether you're travelling for a business trip or heading off on a well-deserved vacation, one thing is certain – you're going to need some sustenance to fuel you up for your journey.
Fuel Up Before Your Flight: Best Places to Eat Near Newcastle Airport
When it comes to finding a good place to eat at Newcastle Airport, there are plenty of options available. From cafes to restaurants, fast food to fine dining, there's something for everyone. Whether you're looking for a quick bite before your flight or a leisurely meal to pass the time, these 10 places to eat near Newcastle Airport are sure to satisfy your hunger.
1- Bar 11
Bar 11 is the perfect place to grab a meal before your flight, as it is conveniently located both before and after security. The menu at Bar 11 Newcastle Airport is classic pub fare but done exceptionally well. If you're looking for a hearty meal to fuel you up for your travels, you won't be disappointed.
Classic dishes like burgers, fish and chips, and ham, egg, and chips are available at Bar 11.
The bar has a fully stocked bar, including local ales and wines.
Signature cocktails, like the Bar 11 Bloody Mary made with Northumberland vodka, are also on the menu.
Bar 11 is a great option for those seeking a traditional bar experience with good food and drinks before their flight from Newcastle Airport.
Best for: Travellers who are hungry and seeking a satisfying and filling meal.
Opening times: From 04:30-21:00
2- The Beer House
As the name suggests, beer lovers can indulge in a wide selection of real ales on tap, including local Banks Brewery beers and other popular brands at the Beer House. Whether you prefer a light lager or a rich IPA, there's a perfect pint waiting for you.
The airport bar menu offers hand-held options for quick bites before your flight.
Pulled pork stottie, a classic North Eastern dish, is a highlight on the menu.
The roast beef stottie is made with fresh bread from nearby Geordie Bakers.
The Beer House is a relaxed and welcoming spot to unwind before your flight.
Enjoy a pint at the bar or grab a table and people-watch as other travellers rush by.
Perfect for: Those seeking a quick and easy meal along with a refreshing pint.
Opening times: From the first to the last departing flight.
3- Burger King
Burger King is known for its fast food that puts you in control of your meal choices. You can choose from a wide range of burgers and other fast-food favourites that are sure to satisfy your hunger. Whether you prefer a classic Whopper or a chicken sandwich, Burger King has got you covered.
Burger King at Newcastle Airport is a fast-food chain that offers quick service.
The restaurant has a fun and informal environment, making it a great option for families with children.
You can enjoy a quick breakfast or a filling lunch at Burger King before catching your flight.
Perfect for: Busy travellers, including families on a tight schedule
Opening times: From 5:00 to 21:00
4- Cabin
When it comes to finding a place to eat before your flight from Newcastle Airport, the Cabin offers an experience that's a cut above the rest. This elegant establishment is perfect for travellers who appreciate the finer things in life and want to indulge in premium service and locally sourced cuisine.
The Cabin offers an extensive wine list with fine wines and champagne.
Locally sourced, fresh ingredients are used to prepare delicious dishes.
The bartenders at the Cabin are skilled at creating classic and unique cocktails.
Locally brewed craft beers are available on tap at the Cabin.
Perfect for: The discerning traveller who seeks a luxurious experience
Opening times: Monday to Friday from 5:30 to 19:00, and Saturday and Sunday from 5:30 to 16:30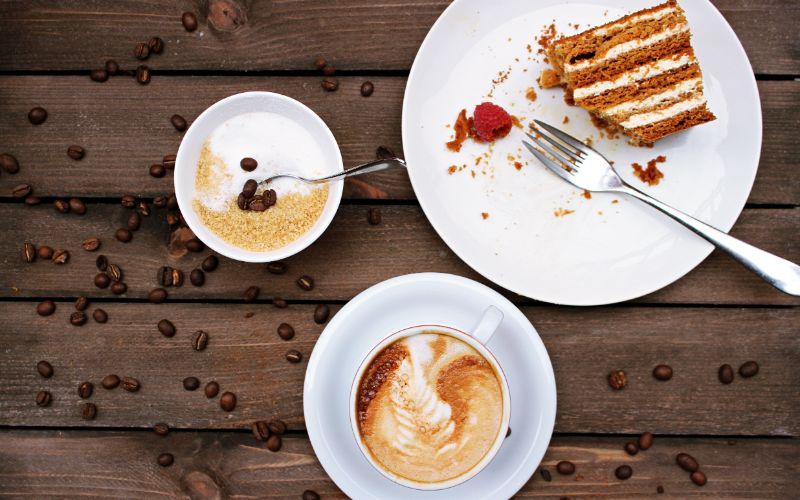 5- Caffe Ritazza
Caffe Ritazza is a haven for coffee lovers and anyone looking for a light bite. With more than 60 years of experience brewing the finest coffee, this café offers a perfect refuge from the airport's hustle and bustle. Caffe Ritazza at Newcastle Airport offers a variety of coffee options, including cappuccinos, lattes, and black coffee.
The café's kitchen prepares a range of freshly made food.
The warm and welcoming atmosphere of Caffe Ritazza is perfect for relaxing before your flight.
Caffe Ritazza is an ideal place to start your journey, whether you're travelling for business or pleasure.
Perfect for: Light-bite seekers and coffee lovers
Opening times: From 03:30-19:30
6- The Flying Hippo
The Flying Hippo is the perfect place to indulge in all your favourite comfort foods before boarding your flight. The menu includes classic American dishes like burgers, pizzas, slow-cooked pulled pork, and briskets. With such a range of options, you're sure to find something to satisfy your cravings.
The Flying Hippo has family dining booths with games for kids to enjoy.
The American diner-style decor creates a unique atmosphere.
The staff is friendly and welcoming to all customers.
Perfect for: Family-friendly and holiday-ready diners
Opening times: From 03:30 to 19:30
7- Greggs
Located in the main check-in hall next to International Arrivals, Greggs Newcastle Airport is the perfect spot for anyone looking for great value grab-and-go snacks.
Greggs Bakery is a go-to spot for a quick bite before your flight.
They offer freshly baked savouries and value sandwiches as well as sweet treats.
Greggs is known for its great value for money and has been a favourite baker among North Easterners for years.
Perfect for: Affordable and convenient snacks on-the-go
Opening times: 24 hours
8- Upper Crust
Upper Crust is the perfect choice for anyone running a tight schedule. With fresh baguettes baked and filled throughout the day, you can be sure you're getting a meal that's both delicious and convenient.
Upper Crust promises freshness and healthy options with no additives.
Located in the departure lounge for convenience.
Offers a variety of baguettes, including classic ham and cheese.
Perfect for: Ideal for those in a hurry.
Opening times: From 5:00 to 18:00 Monday through Friday, 5:00 to 15:00 on Saturdays, and 5:00 to 17:30 on Sundays
9- Fratello's Restaurant
One of the standout features of Fratello's is its open-plan kitchen, where you can watch your food being prepared right in front of you. This adds an extra level of excitement to the dining experience and ensures that your food is fresh and made to order.
Fratello's has a friendly and welcoming atmosphere, with attentive but unobtrusive service.
The menu features a range of dishes, from classic British fare to Italian-inspired pasta dishes and pizzas.
Fratello's chefs use fresh, high-quality ingredients.
The staff accommodate dietary requirements where possible.
Perfect for: Ideal for dining alone with background music.
Opening times: From 9:00 to 22:00
10- The Badger Restaurant
The Badger Restaurant is a traditional British pub located near Newcastle Airport. With a history dating back to the 1700s, the pub has served as a gentleman's residence, three separate houses, and a popular spot for locals in the hamlet of Street Houses.
The Badger offers traditional British pub fare and is well-known for its food and drink.
The pub is surrounded by public footpaths, making it a great spot for a pre-flight walk or to take in the nearby Pele Tower.
The Badger is a must-visit spot for traditional British hospitality in Newcastle upon Tyne.
Perfect for: Ideal for dining alone with background music.
Opening times: from 12:00 - 23:00 Sunday: from 12:00 - 22:30
11- Toby Carvery
When it comes to finding a good meal before your flight from Newcastle Airport, Toby Carvery is a great option. While it is located a bit further from the city centre, it is conveniently close to the airport hotels, making it an ideal stop for those staying overnight. Toby Carvery is a popular carvery chain in the UK known for its delicious British food, offering hearty dishes at a reasonable price with generous portions.
The restaurant has a clean and pleasant atmosphere with friendly service.
The highlight of the menu is the perfectly cooked roast beef, turkey, pork, or chicken with traditional trimmings.
Perfect for: Those looking for traditional English food at affordable prices.
Opening times: From 08:00 – 22:30
Please note: The restaurants and pubs of Newcastle Airport opening times may vary depending on flight schedules.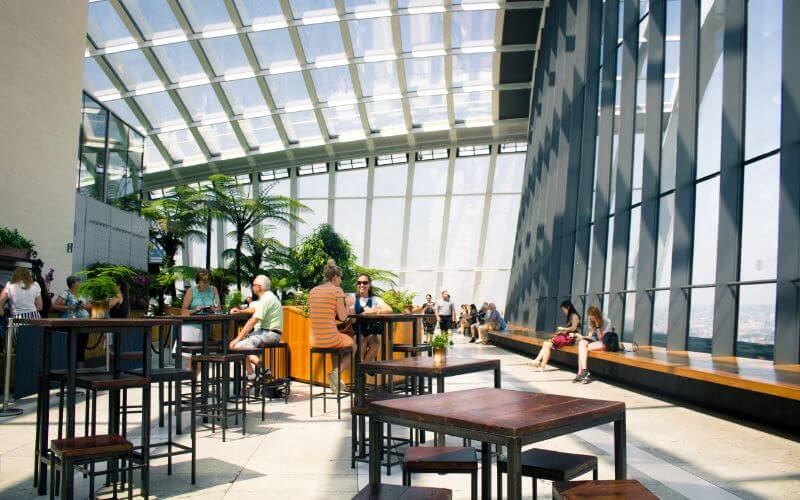 Frequently Asked Questions
You might be interested