Right after arriving at the Airport, most people feel exhausted from checking out all the possible transportation services to the city centre. Since you might be already tired, it might be better for you if you briefly knew some options beforehand.
We suggest you check out transportation alternatives before your flight date. In this article, we plan to give you detailed information on travel from Hannover Airport to Hannover. We hope it will be helpful and practical for your other vacations in Hannover.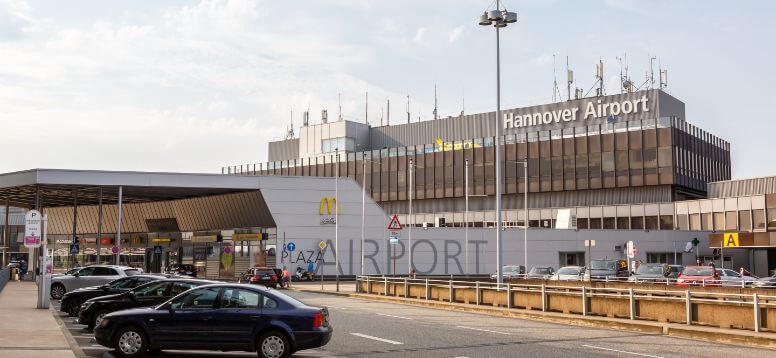 All Transfer Options: Hannover Airport to Hannover HBF
If you checked out Northern European cities, you might know that Northern Germany has a lot of tourist attractions. Thanks to its location in this region, and must-see beauties, Hannover is an ideal point to start your travel. Before starting, we will give you a humble summary of travelling options from Hannover Airport HAJ to Hannover.
You can use the train, local bus, taxi, or private transfer to reach there.
You can rent a car or bus if you feel like it. The journey times depend on your travel vehicle choice and traffic jam. If you use Hannover Airport for your return, you can use the same transportation options from Hannover HBF to Hannover Airport.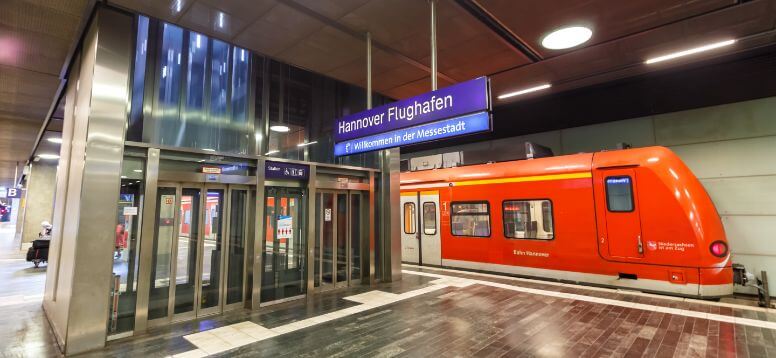 Train From Hannover Airport to Hannover HBF
The readers who have already been to Germany can be familiar with German Railways. With their rich destination points, using a train is one of the best transportation options in Germany. Years ago, passengers could reach the city centre by taking a shuttle bus. However, this vehicle has been replaced by the S-5 Bahn train.
Good news: Bahn Train is faster than the last shuttle bus! 😉
S-5 Bahn Train departs every 30 minutes. So, you do not need to hurry when you miss the first one. It starts to work from 4 am early in the morning, till 1.30 am late night hours.
Hannover Airport's train station is situated in Terminal C; you can easily reach the railway station thanks to lifts and escalators. Your train journey to Hannover Hauptbahnhof will take almost 18 minutes. Which is relatively short.
How much does a Train Ticket cost: The fare for a one-way ticket costs 3.40 euros. However, the total cost can be reduced if you buy a daily ticket. This daily train ticket can be used all day for an unlimited number of times. It costs only 6.80 euros per person.
How can you purchase Train Ticket: You can have your train ticket from vending machines.
Do not forget to validate them in the ticket machines if you do not want to get fined.
Private Transfer from Hannover Airport to Hannover HBF 🚗
AirportTransfer.com is one of the most trusted Private Transportation companies. With Airport Transfer, it is possible to compare the vehicle prices among different options. Sedan, Minivan, Crossover, SUV, or Limo are just a few samples of these options. Thanks to their rich range of cars, anyone can choose a vehicle according to their budget. Besides their wide range, Airport Transfer has a strict policy regarding clean vehicles.
Airport Transfer offers very-well-English-Speaker staff, so you do not need to worry about whether your driver can understand you or not.
Their helpful and professional driver can wait for you for up to 45 minutes if there is any delay.
In such a case, if you could give your flight number beforehand, your driver can check your flight and then be informed.
You can book and organize your drive only in 3 steps!
Your driver can escort you from Airport to your hotel, Air B&B, or anywhere.
Speaking of payment, Airport Transfer is ready to help you with that too.
You can make your payment online, or you can try to do it with PayPal.
Last 48 hours, you can cancel your ride without penalty, which means a 100 per cent refund! 😊
How much does Private Transportation cost: Your journey's price will depend on your last destination, extra services that you may choose, and the vehicle type.
Local Bus from Hannover Airport to Hannover
Another public transport option from Hannover Airport to Hannover is taking a bus. This local bus's number is 470. Lucky to you, this option also departs every 30 minutes. However, it leaves every hour on Sundays; you might need to consider it. Local buses' destination starts from Hannover Airport to Langenhagen Zentrum Station.
Your bus journey will take shorter than 20 minutes while starting to work from 04.37 early in the morning to 11.08 pm. You can board the bus at the bus stops between the Maritime Airport Hotel and Car Park 3.
How much does a Local Bus cost: Prices of tickets changes according to the passengers, whether child or an adult. While a single ticket per person costs 2,60 euros, children can buy it for 1,30 euros.
Like train tickets, local bus transportation also offers daily tickets! Per person, a single day bus ticket costs 5,20 euros, whereas children can purchase it for only 2,60 euros.
How can you purchase a Local Bus Ticket: You can quickly get your ticket through Ustra Ticket Booths in the Arrivals Hall. Or you can buy it on board with the driver.
Reaching Hannover from Hannover Airport by Airport Shuttle
As mentioned above, the local train replaced Hannover Airport's shuttle bus service. No need to worry, from Hannover Airport station to Hannover takes shorter thanks to the train service.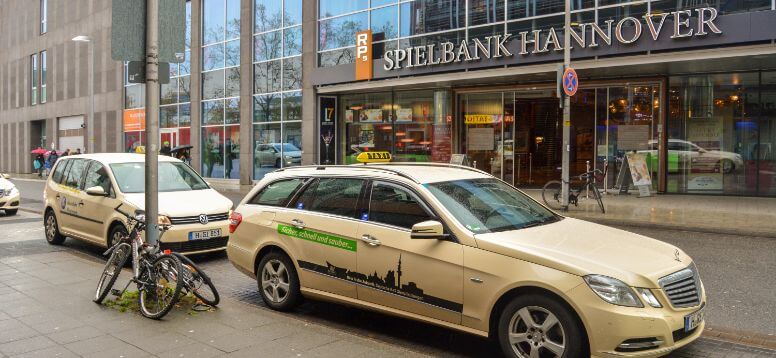 Taking a Taxi from Hannover Airport to Hannover 🚕
Taxi is another private transport option from Hannover Airport to Hannover. Taxi fares indeed cost more expensive than other vehicles. Since it is highly flexible in finding a taxi (any time and day), most people still use it instead.
How much does a Taxi Service cost: Depending on your destination point, your journey might cost you between 26 and 31 euros.
Why Are So Many Tourists Fond of Hannover?
We will give brief information about what makes Hannover that charming tourist attraction. However, thanks to its location, Hannover is a good starting point for any vacation near Northern Germany. For instance, Hannover Airport is highly used for reaching Bremen City. So, if you are planning to visit Northern Germany or Northern European Countries, you can organize a route from Hannover.
Now, we are back to Hannover and its beauty! Hannover is one of the spectacular yet humble German cities that protected its historical atmosphere and architecture. Furthermore, this beloved city is famous for its vast green areas and parks. As its name gives away, Herrenhausen Gardens is a must-see garden located in Hannover. It stands back to the 17th century, yet its beauty tells the story of the Royals.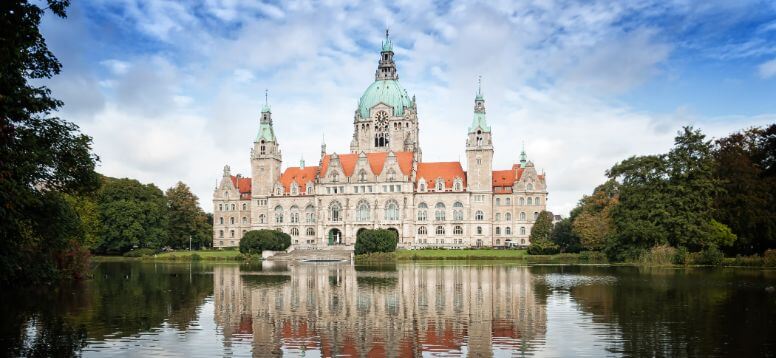 If you have been to Germany, it would not be fair not to visit a German Castle! Marienburg Castle is one of the gorgeous German Castles, standing back to the 19th century. This gigantic building is still alive thanks to extensive music and art events!
The Old Town (Altes Rathaus) and The Market Church (Marktkirche) are still vivid with active daily lives and their visitors. If you want to breathe the historical atmosphere of Hannover City Center, you cannot miss these last two destinations!
Budget Friendly Accommodation Options
Hannover is a budget-friendly destination for your vacation, including its cheap accommodation options and affordable foods.
It is possible to stay in hotels, Air B&B, guest houses, or apartments.
How much does one night's stay cost: Depending on your choice, one night's stay in Hannover starts from 34 euros and keeps rising to 110 euros per 2 people! Friendly reminder: Those prices change during the season. 😊
How can you book your accommodation: Through the Air B&B website, you can compare the prices and accommodation types.
Where to eat in Hannover?
Thanks to the vast Italian population in Hannover, it is highly possible to find an excellent Italian Restaurant in town. Roy's Restaurant is the best Italian Restaurant in that city, no doubt why they were awarded in the year 2021. You can check their menu, prices, and availability through their website.
If you are into European wine selections, you cannot miss Ristorante Weinstube Leonardo! A wide range of German and Italian wines is waiting for you!
Popular Things in Hannover
If you have been to Germany or any other Northern European country, you might be familiar with their rich festivities around the year. We will be listing some festivals that are being held during the year in Hannover.
Oktoberfest – Held in October
Pferd & Jagd – Held in December
Schützenfest – Held in June
Maschsee Festival – Held in July
Pony Express Festival – Held in August
Mara Luna Festival – Held in August
You might be interested
Browse Airports for Airport Transfers