The Maldives is located in the southwest of Sri Lanka and has more than 1000 islands. Male is the Maldives' capital island and is in the southern part of North Malé Atoll. This island in the north is virtually almost like an untouched place and is the most popular gateway for honeymooners, couples, and water sports enthusiasts.
It is a natural wonderland filled with picture-perfect scenery and a visual and sensory festival. You can escape the world's hustle in this natural haven, which features palm-fringed lagoons and the calmest surroundings.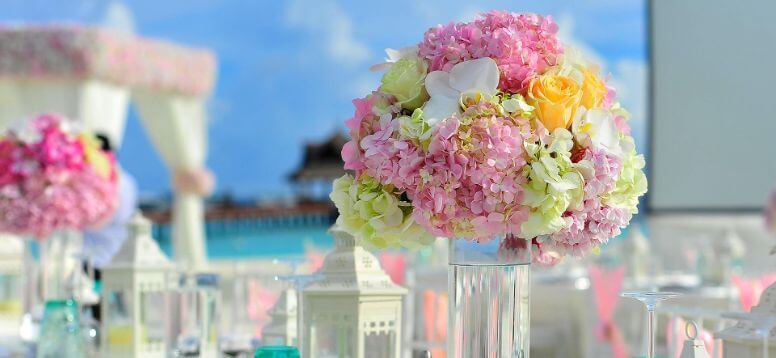 Male is known for its many attractions, from gorgeous parks to heritage museums and some of the most magnificent art galleries in the world. Additionally, it features an Artificial Beach where you can engage in various water sports activities, including swimming, kayaking, and wakeboarding.
If you are a food lover, you are in for a treat because the city is home to some of the liveliest cafés and restaurants where you can sample a variety of cuisines. Also, keep in mind that you can purchase fresh fish at the Fish Market and marvel at the Munnaaru, the city's oldest structure.
Is Male and Velana International Airport the same?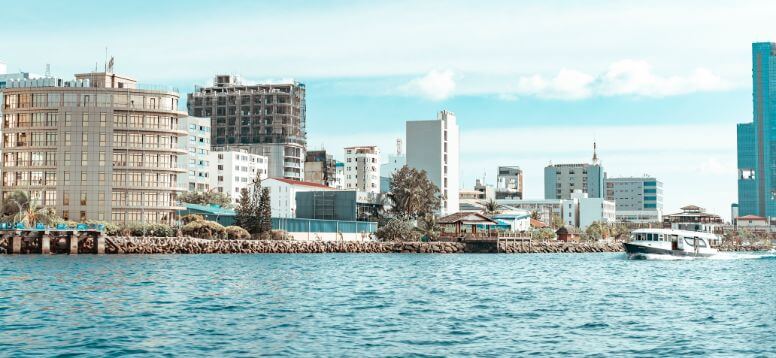 The Maldives has one only international airport for each international flight with an international terminal. Velana International Airport is located in Velana and has the airport code MLE.
So, if you wonder about the answer to "How far is Velana airport from Malé airport?" be aware that they are the same.
Velana International Airport is located in Velana on Hulule Island. Velana International Airport, Male International Airport, is the largest and busiest airport in the Maldives.
It connects the Maldives to everywhere on earth. Due to Male Airport being international, you can enjoy the duty-free shop on your way back home.
How do I get from Velana Airport to Malé?
The distance between Velana Airport and Malé is 4.7 km, and there are several answers to the question "How do you get from the airport to the Maldives?".
· Taking an Airport Ferry from Velana Airport to Malé
Airport ferries operate 24 hours a day, six days a week. A one-way ticket costs approximately $1.
You can buy a ticket at the airport. Ferry times differ according to the time of the day.
Between 2:3 and 4 a.m., there is a ferry every 30 minutes, and between 4 and 6 a.m., there is a ferry every 15 minutes.
There is a ferry every 10 minutes in the remaining hours.
On Fridays, the ferry runs every 10 minutes between 6 a.m. and 12 a.m.
However, these ferry schedules are infamous for their inaccuracy, so always control the times.
· Taking a Speedboat from Velana Airport to Malé
Located right outside the terminal, speedboats can also transport passengers to the capital city or nearby islands in the North or South Malé atolls. The distance affects the prices.
Transfers to and from your hotel can approximately cost $100 and $400 round trip. You can buy a ticket at the airport.
· Taking a Seaplane from Velana Airport to Malé
Seaplanes are a typical type of transport between Velana International Airport and the resorts, operating between sunrise and sunset. Once your reservation is confirmed, your resort will arrange for seaplane transfers, which will be added to the cost of your hotel.
Transfers round-trip might cost between $200 and $500, depending on the distance. Trans Maldivian Airways is an air transfer operator in the Maldives and provide seaplanes to resorts.
If you are looking for seaplanes, look at a Trans Maldivian Airways sign. You can buy a ticket from the seaplane terminal.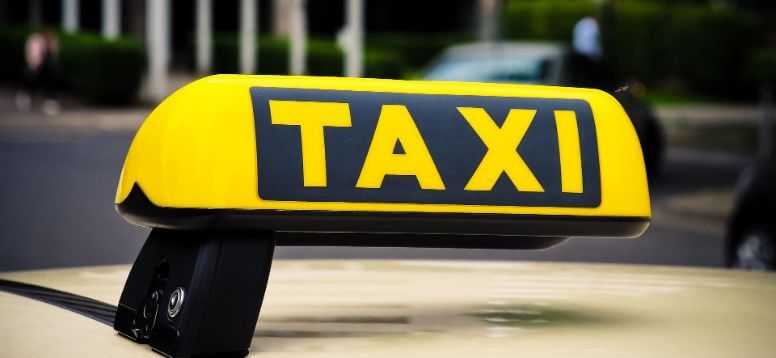 · Taking a Taxi from Velana Airport to Malé
The 4.7 km ride approximately takes 10-minute from Velana International Airport to Malé Island and costs $2.50. there is a taxi pick-up point on the outside of the domestic terminal.
🚕 Uber vs Taxi for Airport Passengers
· Private Transportation
We recommend booking a private ride to ensure that you arrive at your home or hotel without feeling weary. Car rental rates are extremely reasonable, starting at 21 dollars. Airporttransfer.com can organize secure, fast, and easy transportation from your home or hotel to the airport for this convenient choice.
🚗 Benefits of Using Private Airport Transfers
Renting a car has never been so simple! You can book your transfer online in a matter of minutes. Private transportation is the quickest and safest transportation from the airport, especially if you are a foreign tourist.
Visit Airporttransfer.com for detailed information on where to stay and how to use private transfer!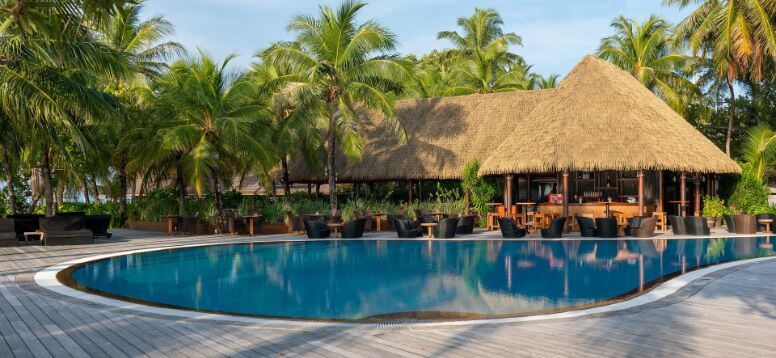 Where to stay in Malé?
Budget-Friendly accommodation: TOURIST INN
TOURIST INN is in Male City, 600 meters from Rasfannu Beach and 1.2 kilometres from Artificial Beach. Nearby attractions include the Villa College QI Campus, the Villingili Ferry Terminal, and Republic Square. Popular attractions such as the National Football Stadium, Sultan Park, and the National Museum are close to the hotel.
The accommodation includes a communal kitchen and lounge area for visitors. Each room includes a private bathroom, free Wi-fi, air conditioning, and a flat-screen TV.
· Distance to Velana International Airport: 2.6 km
· The average cost for one night: $55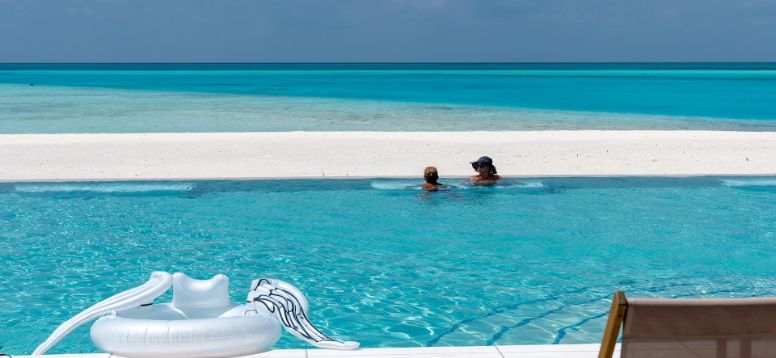 Luxury accommodation: Baros Maldives
The hotel is located 1 minute from the beach. Baros Maldives is a small island near Male city located in a turquoise lagoon with homes on a white sand beach or perched over water with a private sun deck.
Each villa is equipped with an espresso machine, wine and mini-bar, a flat-screen TV, and an iPod dock. Guests can indulge in spa treatments or swim in the infinity pool. The resort offers water sports, yoga, a reading lounge, and free Wi-Fi. A Villa Host is on call 24 hours a day to provide customers with a discreet, individualized service that ensures a smooth stay.
Three restaurants in the resort have excellent cuisine, seafood, and Asian specialities, and private dining can be arranged in-villa, on a remote sandbank, or a lagoon-view balcony. The Sails Bar serves drinks all day under the palms and features an evening cocktail and cigar lounge with a sea view.
· Distance to Velana International Airport: 15.7 km
· The average cost for one night: $ 646
When to visit Male?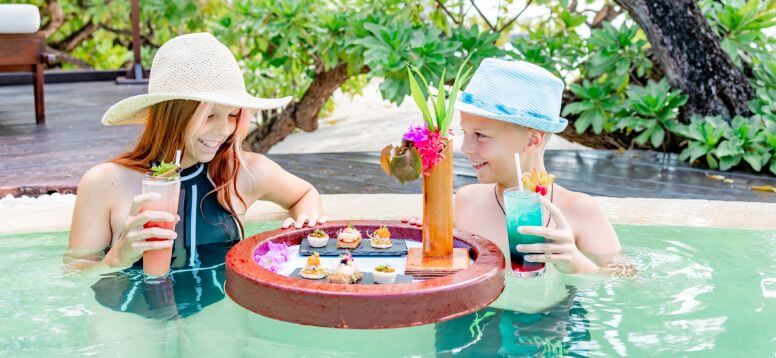 The climate in the Maldives is tropical, with year-round average highs of 29°C to 31°C and average lows rarely dipping below 24°C. Between November and April is the best time to visit the Maldives. January to April are the driest months of the year, with minimal rain and low humidity, making it a resort season.
Temperatures remain pleasant from May to December, but rain is more common, and storms are possible. There are frequently lengthy periods of bright sunshine during this period. Keep reading for a detailed month& Malé report.
· December through February: The sunniest time of year
December through February is the best time to visit the Maldives. There is less expectancy of rain, mild humidity, and clear skies. However, the Christmas and New Year holidays result in significant price increases, and many resorts require stays of five days or more.
🏖️ Best beaches in the world from Maldives to the Mykonos
· March through April: The best time to visit if you love the hot weather
The pleasant weather lasts until late April, when temperatures reach their peak. March is the start of the surf season, which lasts until October. While this is neither peak nor the low season, prices increase around Easter.
· May through November: The best season to travel on a budget
Although storms and rain are more likely, the weather stays pleasant, and resorts become at their most affordable prices. August prices will increase to coincide with European summer vacations. Also, at this time of year, the marine life on the western side of atolls is more diverse.
You might be interested
Browse Airports for Airport Transfers