Fethiye is one of the most well-known districts of Mugla. Since this gorgeous coast is only 50 kilometers away from Dalaman Airport, it is pretty convenient for both national and international tourists to visit that place.
This blog is dedicated to the readers who would like to explore this place but do not know how to start or people who stayed in Fethiye before but experienced it again. From Kaputas beach to tasty restaurants, here is the most updated guide to visiting Fethiye! 😊
First Day to Visit Fethiye: Where shall we start?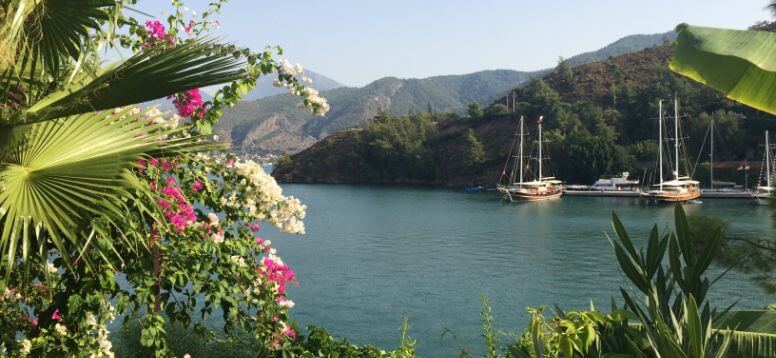 1️⃣ If you have wanted to visit Fethiye for a long time, you definitely deserve a tasty breakfast to start your day! Önallar Köy Sofrası could be the most popular option for traditional Turkish breakfast lovers. This place offers you various things such as organic and highly fresh vegetables like tomato, cucumber, and olive. Moreover, çökelek, bazlama, muska böreği and simit which all of them belong to Turkish cousins.
This traditional breakfast costs around 85 Turkish Liras per person.
2️⃣ After your breakfast, you would like to enjoy the mesmerizing turquoise coast options in this town. Many coasts of this place are seen as national parks, so don't be surprised when you see how well they are protected! 😊 Kabak Koyu is a 200 meters long beach with no facilities. So, if you are looking for somewhere tranquil, that might be the one for you. Instead of exploring the beaches one by one and discovering many coasts in one shot, a boat trip could be more suitable for your needs. If you feel positive about it, you may check out the boat trip facilities in Fethiye.
3️⃣ You can choose a one-day trip to visit Mavi Mağara, Kelebekler Vadisi, Soğuk Su, Deve Plajı and Akvaryum Koyu. You can even choose a 3-4 days-long trip to visit many more blue cruises! Since you have only 7 days in Fethiye, we would suggest a one-day trip by boat. After a long day of getting to know Fethiye, you would definitely crave the tastiest restaurants, bars there! Well, good news for you, whether you choose a famous restaurant or a humble local one, the chances of finding a delicious dish are quite high!
READ MORE: 14 Best All Inclusive Hotels in Bodrum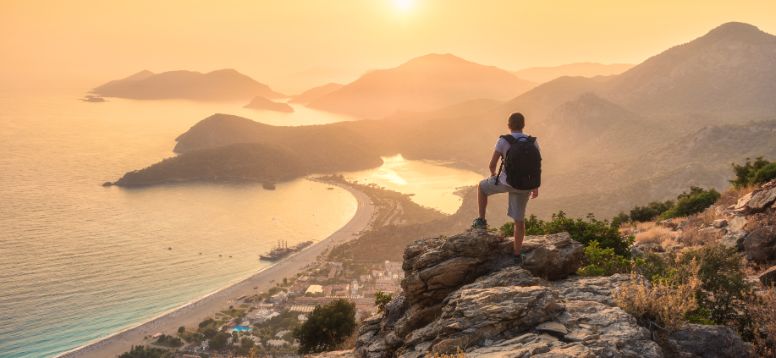 Second Day: Which Places to Put on Your Bucket List
1️⃣ Fethiye is a very prestigious coast in terms of local foods, breathtaking views, turquoise-colored coasts, and sportive activities that can suit everyone! However, before diving into our second of day Turkish coast itinerary, you might be interested in day trips from Fethiye to other districts in Muğla.
2️⃣ There are many options to visit other coasts, from hiring a boat for one day to taking a taxi. If you are into more affordable alternatives, taking a cab would be more convenient. In general, the Fethiye to Ölüdeniz taxi cost would be around 96 Turkish Lira. If you would like to eat your breakfast in Oludeniz and looking for somewhere that makes you feel special, you should definitely check out Narlibahce- Pomegranate Garden Restaurant. This place is suitable for vegetarians, romantic couples, and families.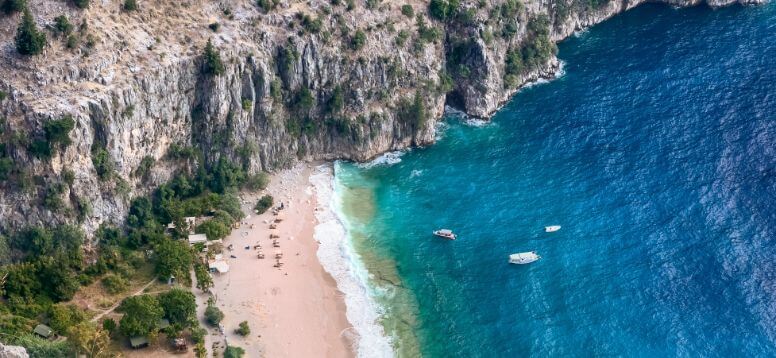 3️⃣ Hopefully, everyone can find something that suits them. Ölüdeniz, aka the Blue Lagoon, is famous for its untouched nature which means this place is proper for tourists who are into outdoor activities! Ölüdeniz National Park offers a wonderful view with its white-colored sand and extremely clean and blue-toned beaches. While you are here, you must visit Kelebekler Vadisi which literally means "butterfly valley". This valley is a very well-protected area since 1995, therefore it is impossible to find any sort of facilities there.
READ MORE: Best Vacation Spots for Couples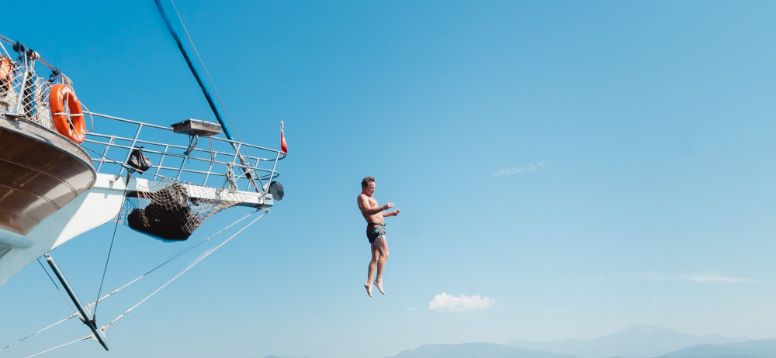 4️⃣ However, you can find a hotel located nearby. If you are a fan of taking a boat, there are lots of one-day long boat trips from Oludeniz Blue Lagoon to Butterfly Valley and Gemiler Island. Moreover, if you find being in the water very joyful, the scuba diving experience might be exactly for you! Perhaps a little bit different option for the ones who are keen on walking in the mountains; hiking on the Lycian Road would be a fun experience during spring.
Third-Day To Discover More: Ancient Sites
1️⃣ The Mediterranean and Aegean Regions have been hosting various cultures and civilizations for more than a few thousand years. Therefore, this wonderful coat does not only great for summer tourism but also for cultural tourism as well. For instance, the Karmylassos ruins are a great sample of the ancient city in Fethiye.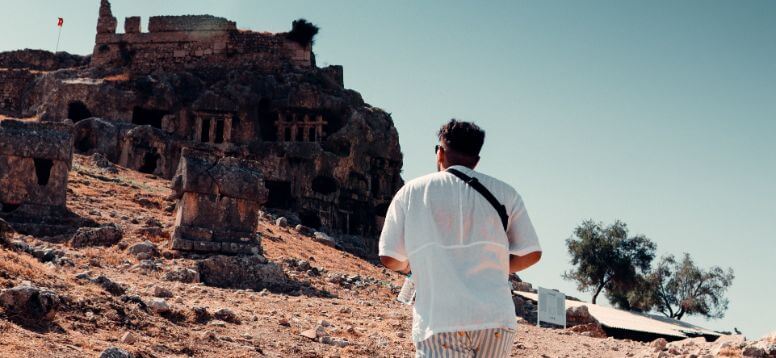 2️⃣ Nowadays, it is a small abandoned village full of typical Greek-style civil architecture from a cathedral to humble houses. Although Kayakoy, the Karmylassos ruins is a relatively modern village, the Ancient City of Telmessos has roots from longer than a thousand years! Telmessos was one the most important cities during the Lycian civilization back in the day.
3️⃣ Perhaps the most famous building and symbol of this ancient place are its rock tombs. Rock tombs or officially The Tomb of Amyntas was built on the behalf of the Achaemenid Empire in around 350 BC. Since Anatolia has been a cultural center of the Roman Empire, Byzantine Empire, and Hellenistic culture, readers who are keen on ancient sites in general, should visit Mediterranean Region and read The South Turkey itinerary to get more information beforehand.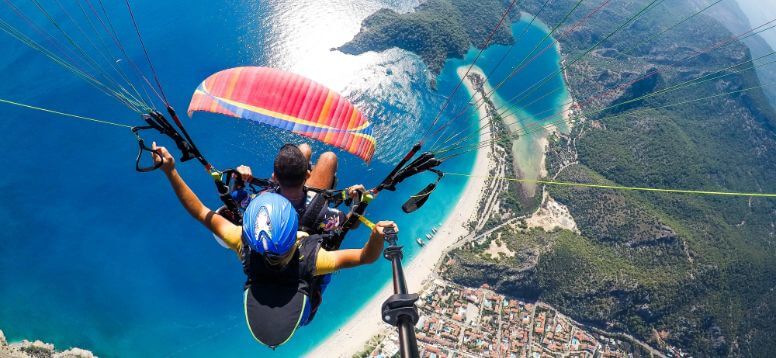 Fourth Day: Dedicated to Outdoor Activities
1️⃣ If you would love to eat your breakfast at the center of nature, there could not be a better option than Saklıkent Paradise Park Restaurant. This restaurant was established in 1990 and is located very close to the Saklıkent Gorge National Park. You can literally sit on the river while enjoying your breakfast thanks to this place's unique atmosphere. It is a relatively calm place since it requires a car to go there.
2️⃣ However, once you arrive, you can park your car for free, and enjoy nature! If you are keen on sportive outdoor activities, the options in Fethiye might be dazzling for you! There are many professional organizations to explore paragliders. Since you will be 1969 meters high in the air, you would be able to see Oludeniz, Kelebekler Vadisi, and Lycian Valley from a mesmerizing perspective. The current cost of this activity differs between 2600 and 3100 Turkish Lira.
3️⃣ On the other hand, if you only want to watch the paragliders, you can watch them in many places such as Kelebekler Vadisi while you swim in the turquoise-colored sea! 😊 After a thrilling day outside, you may want to sit and enjoy the beautiful sunset while eating your dinner.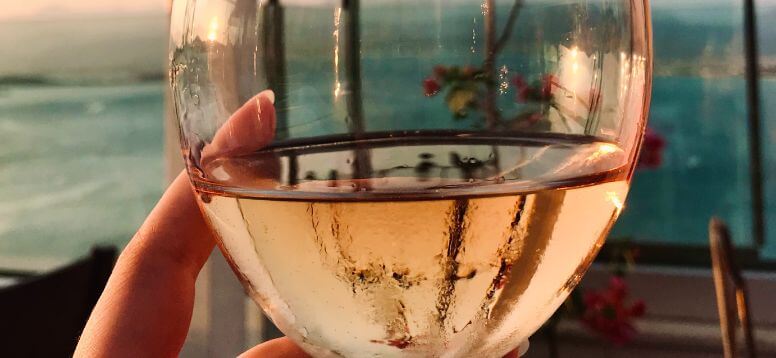 4️⃣ Yengeç Restaurant is such a perfect place to enjoy sunset, dinner, and tranquility at the same time. This place is located at the center of the Fethiye Marina, therefore is quite convenient to find it. Since it offers many foods to vegetarians and vegans, almost everyone can find something for themselves.
Protip: The restaurant offering wine is extremely good, you should try it!
Fifth Day: Explore the Around
1️⃣ Fethiye has a perfect location since it is somewhere between the Aegean and Mediterranean regions. Therefore, if you would like to see Antalya just for a day, it is quite possible! One of the closest districts of Antalya is Kas. You can go to Kas from Fethiye by taking a taxi, hiring a car or even by boat.
2️⃣ If you are interested in visiting that place, we highly recommend you to read a Kas, Turkey itinerary. However, we would also recommend you to visit several places briefly; Ancient Theater at Antiphellos, Kalkan, Long Bazaar, and King's Tomb. After you return to Fethiye and crave dinner, you may find Fethiye Meyhanesi charming. This beautiful place offers highly tasty dishes and traditional Turkish music at the same time.
3️⃣ The nostalgic restaurant has so many wonderful main dish options, however, its sea foods are the best, such as Kalamar and Istakoz. If you are fond of boat or yacht trips, then you should definitely check a road trip Bodrum by boat.
Sixth Day: There Are Many Places Left to Explore in Fethiye!
1️⃣ Fethiye is a gorgeous place in terms of its location that enables you to visit more places around even for one day. However, it might be so charming that you could miss a few historical or natural places in Fethiye! On your sixth day, you could check your bucket to see if you overlooked somewhere before.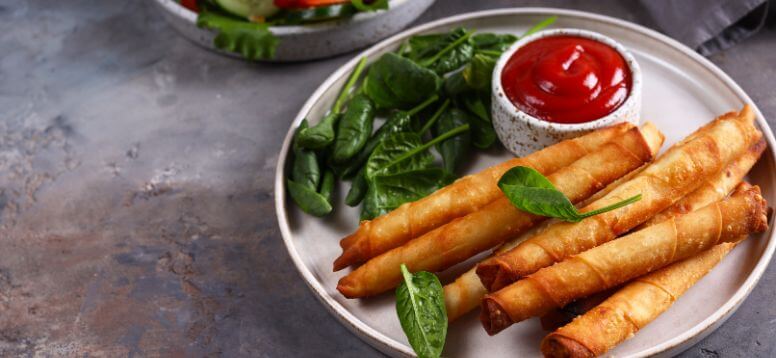 2️⃣ If you are looking for somewhere with reasonable prices and a peaceful atmosphere, Denizatı Restaurant & Bar seems to be the best choice! This place is located in Fethiye Harbour, so it is quite easy to find it. After you eat your breakfast, you can take a walk between Fethiye and Calis, and enjoy the view. You can order traditional Turkish breakfast with the freshest products! Even though all of the options are quite good, we especially suggest their Sigara Boregi and different sorts of cheeses.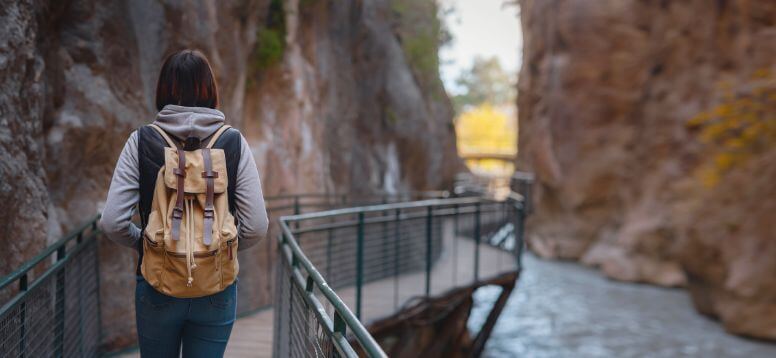 3️⃣ After breakfast, you can hike in the picturesque Lycian ruins for around 9 hours. This trekking road generally starts from the ancient city of Tlos to the acropolis, an enormous Roman stadium, and the famous rock-cut tombs on the mountain. You can enjoy your lunch in the Saklikent National Park, and afterward, you could enjoy the wonderful view of Saklikent Canyon and the gorgeous River. Lastly, but definitely not least, if you have a trip to Turkey, you should experience the traditional Turkish Bath in Fethiye! TUI BLUE Sensatori Barut Fethiye Hotel is a very prestigious place for its wonderful outdoor pools, exclusive garden design, special main dishes, and desserts, and also for its highly qualified SPA service.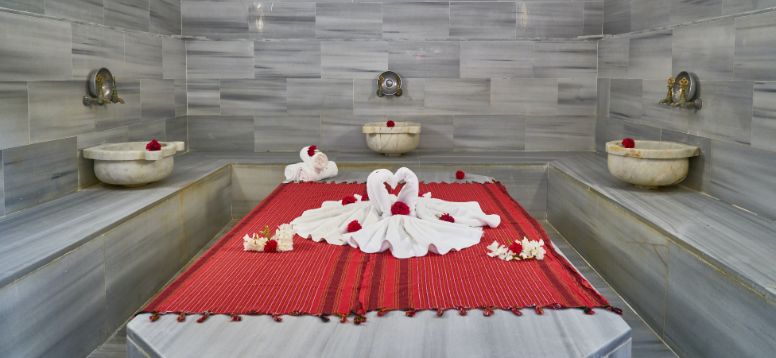 4️⃣ You can just enjoy Hamam, the traditional Turkish bath, or if you would like more, you can experience a sauna, hot tub, and a massage from a professional. Another great option is the Yacht Classic Hotel in Fethiye. This hotel does not only offer a hammam, sauna, hot tub, and indoor pools, but it also offers special therapy and massage options for your needs. Since both hotels are on the seaside, you can enjoy their unique SPA experience and turquoise water at the same time.
Last Day in Fethiye: Already Feeling Nostalgic ☹
1️⃣ Since it will be your last day in Fethiye this summer, you may like to have an unforgettable day around the coast. Bogazici Restaurant is along the Harbour, so you cannot miss it! This humble place offers a picturesque view to its visitors. The tables are on the beach and pretty close to the sea.
2️⃣ Therefore while you enjoy your breakfast, you can smell the freshness of the Fethiye sea and even look at the little fish in there! Since they offer a wide range of options for breakfast, such as fresh orange juice to different types of cheeses and olives, you can find anything you want. If you feel like you want to see different beaches around Fethiye, you can go to the famous Patara Beach which is only 70 kilometers away from the center.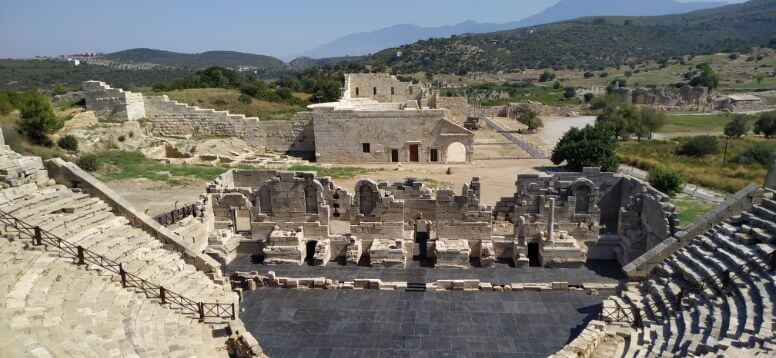 3️⃣ This beach's name comes from the ancient city of Patara. So you can both enjoy the beach and explore the ancient city at the same time. The vivid colors of the sand and beach host thousands of tourists every year, you would not miss that place before leaving! On the way to the Ancient City of Patara, you can check out the restaurants nearby. Durak Lokantsi is a great option for vegetarian, vegan, and non-vegan visitors with its traditional Turkish cuisine dishes from meatballs to pide. Both Turkish and international visitors fell in love with their pide, so we highly recommend you to try their pide with different options.
4️⃣ After a few days in Fethiye, you might want to buy something that could remind you of this mesmerizing coast in Mugla. You could visit the main Harbour and the castle of Fethiye, by doing so you can bump into many Gift & Specialty Shops. Citrus Mediterranean Cuisine Restaurant might be the best option for the last night since it has the best sunset view in the Harbour. You can watch the sunset, the luxurious yachts, and the opposite shore while eating one of the tastiest seafood in town! This Fethiye,
Turkey itinerary blog is dedicated to readers who want to explore there. Hopefully, it would be helpful for your exploration. 😊
You might be interested