There is so much more to explore in the Philippines.
If you like freshwater, take your adventure to the next level and discover the beauty of 10 Fascinating Waterfalls in the Philippines. Sit back and listen to the sound of running water and fluttering birds.
Tinuy-an Falls (Surigao del Sur)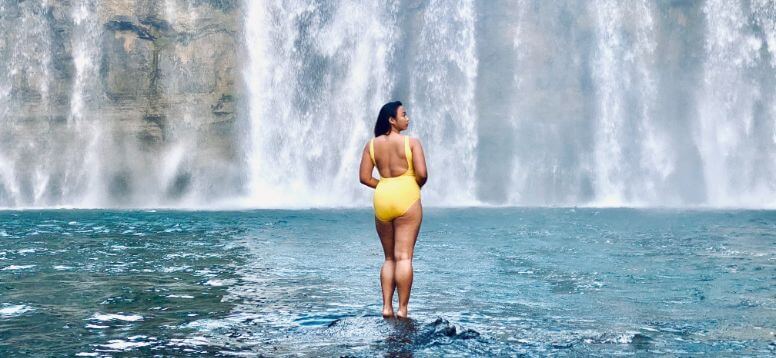 Locals refer to the Tinuy-an Falls as the "Crown Jewel of Surigao del Sur.". For its fascinating natural beauty, the region is proud of this destination. Tinuy-an stands at around 180 feet (55 meters) and has a width of 311 feet (95 meters).
Tinuy-an's width is its most striking feature, distinguishing it from other waterfalls in the nation. It is regarded as one of the Philippines' largest waterfalls. Because it resembles Canada's famed waterfall, it is known as the Philippines' Little Niagara Falls. Tinuy-an Falls is a three-tiered waterfall nestled in a dense forest environment. Each tier has its natural pool where you may rest and cool down.
Tinuy-an is home to a tiny playground, houses, and picnic areas. This waterfall is located in Barangay Burboanan, approximately 18 kilometres from Bislig's town centre.
🏷️ Entrance Fee: 50 pesos
⭐ Manila Ninoy Aquino International Airport Transfer with %100 Refund Guarantee
Mag-Aso Falls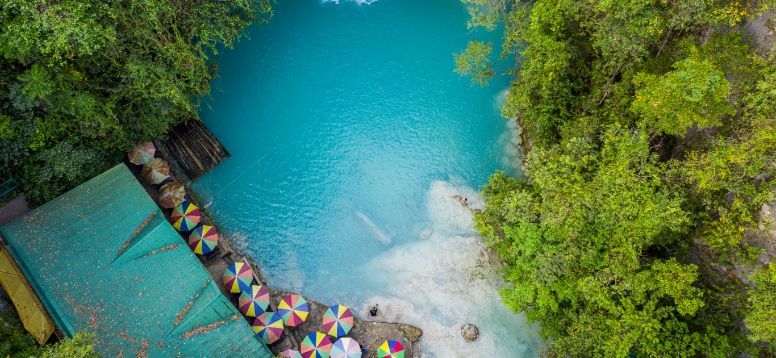 When it comes to waterfalls, Negros Occidental will not let you down. This attraction is situated in Oringao, Kabankalan City, located south of Bacolod City. Domestic visitors coming from Manila are less familiar with Mag-Aso.
Its beauty, on the other hand, is worthy of praise. The brilliant blue water of this waterfall creates a mist that enchants visitors. The term "aso" refers to mist in the native language. Mag-Aso has a nominal admission fee because it is close to a resort. The regional government owns and operates this resort.
Visitors who wish to stay the night can find rooms at the resort. You may still rent one of the area's cottages if you only come for a day.
🏷️ Entrance Fee: 20 pesos
Limunsudan Falls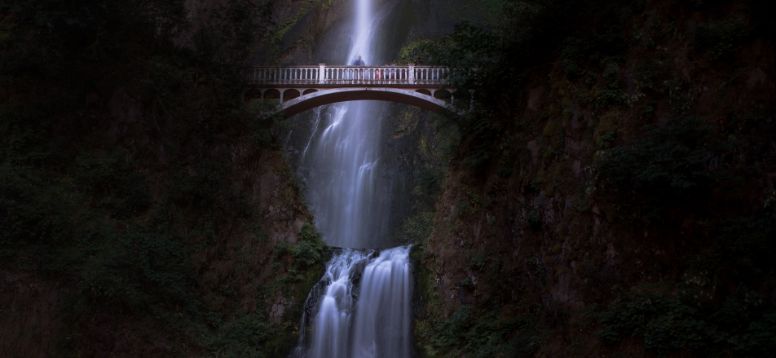 If you consider 900 feet a large waterfall, a visit to Limunsudan Falls in Iligan City's waterfall-rich area should be on your bucket list.
Some claim that Limunsudan Falls is the biggest, while others claim that there are even more significant falls. Whatever the case, they are big enough to impress either way.
The falls have two distinct levels, and because of their remote and rugged location, they are not on the radar of most tourists.
If you want to go there, spend some time getting information about the town because many inhabitants do not even know it.
🏷️ Entrance Fee : 10 Pesos
⭐ Things To Do in the Philippines - Explore & Travel
Sinulom Falls (Cagayan de Oro)
Sinulog Falls, near Cagayan de Oro, is a new tourist attraction. Its name comes from "sulom," which means "black ants." According to legend, during a famine, people flocked here like ants in search of water.
Sinulog Falls has 30 streams, the largest of which is 30 meters high, making it one of the Philippines' most remarkable waterfalls in terms of beauty.
The streams flow straight into the Cagayan River, which runs through the provinces of Cagayan Oro and Bukidnon.
🏷️ Entrance Fee: No entrance fee
Maria Cristina Falls (Iligan)
The Maria Cristina Falls is close to Iligan City, in Mindanao. The view is almost glorious, with 98 meters high and a flow that reaches 130 cubic centimetres per second. In the rainy season, the waterfalls on two sides are separated by a rock, also called "Twin Falls" or twin waterfalls.
These Philippine waterfalls are located along the course of the Agus River. The fall is so substantial that it generates 60% of Mindanao's electricity, thanks to the hydroelectric plant at its base.
Unfortunately, taking a swim or flying a drone for safety reasons is impossible, but you can sit and enjoy them in picnic areas or restaurants. They are usually only open to the public on Saturdays, Sundays, and holidays when the hydroelectric plant is not operating.
🏷️ Entrance Fee: 50 Pesos
Kaparkan Falls (Abra)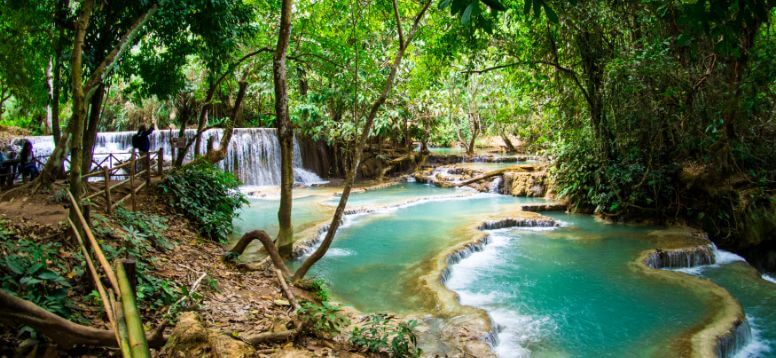 Kaparkan Falls (also called Mulawin Falls) is a discovery in Ting, Abra – a large waterfall terrace flowing down a mountain. Every layer comprises years-old mineral rocks filled with water during the rainfall to serve as mini-pools.
Kaparkan Falls has crystal clear waters with a little green tint. A brilliant blue pool is also at the bottom, reminding you of Kawasan Falls in Cebu. It takes three hours to get there from Tineg's main town.
During the summer, the Kaparkan Falls are dry; nonetheless, from July to December, it is available to the public.
🏷️ Entrance Fee:50 Pesos
Tinuy-an Falls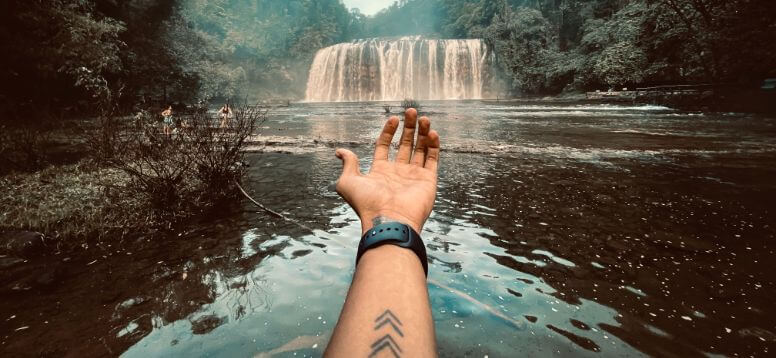 Nicknamed the "Little Niagara Falls of the Philippines," Tinuy-an Falls in Bislig City, Surigao del Sur, is one of the largest waterfalls in the country. It is not as big as many other Philippine waterfalls; once you see its magnitude, you will not care anymore.
They are nearly 300 feet wide and 180 feet high. Many drops look like a sheet of white water and form a rainbow almost every morning from 9 to 11 o'clock when the sun's rays penetrate the fall fog.
🏷️ Entrance Fee: 50 Pesos
Cathedral Falls (Lanao del Norte)
Cathedral Falls is an accessible waterfall that can be seen just by the road by everybody. Cathedral Falls is located in Barangay Waterfalls, Kapatagan, Lanao del Norte, and a 15-minute habal-habal trip from the city centre costs about P10-15 per person.
Cathedral Falls is a plunge (or horsetail) and beautiful waterfall that cascades from the top of a stunning basaltic rock structure that resembles french fries but is grey or black rather than golden.
🏷️ Entrance Fee: No entrance fee
Aliwagwag Falls (Davao Oriental)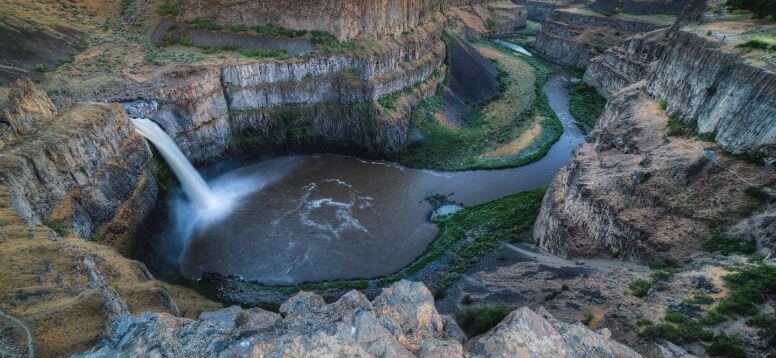 Aliwagwag Falls, also called the "Curtain Falls" or the "Stairway to Heaven," is the Philippines' tallest and most famous waterfall, with over 100 cascading flows. It is a must-see site in Davao Oriental.
With a total length of 1110 feet and a width of 20 meters, this fascinating location is a place that is paradise on earth. Is there any other way to get lost in paradise than this?
Aliwagwag is regarded as one of the country's biggest waterfalls. Aliwagwag is said to be a blessing to the Mandaya Tribe. The nearest important city to Aliwagwag is Davao City. Aliwagwag Falls may be accessed from Cateel Town.
🏷️ Entrance Fee: 50-100 Pesos
Asik-Asik Falls (North Cotabato)
Asik-Asik Falls is probably a unique waterfall you can see in Mindanao. It is one of the most visited waterfalls. "Asik '' means drizzle in Ilongo and is known as the "curtain waterfalls' '. These falls look like a veritable water curtain falling down a stone wall of lush vegetation.
The waterfall lies at Sitio Dumlao, Dado village, Alamada. Davao City and Cotabato City are the two closest major cities to the falls.
The site is still almost intact because it is difficult to reach, and the security recommendations about this area of the Philippines. Therefore, we recommend you consult the recommendations of the Ministry or contact the consulate to know the status of the situation at that time.
🏷️ Average Fee: 50 Pesos
You might be interested