Along with fatigue and travel rush, traveling for work also has its challenges; so it's a good idea to know some business travel tips. Sleeping on aeroplanes, continually packing for trips, and being dedicated to schedules of your travel time can disrupt your routine and make you irritable.
While preparing for a work trip might feel like its own undertaking, with organizing presentations and meetings, following airline regulations, and packing your bags, especially if you are one of the frequent business travellers, you can be the winning party!
Keep reading for the packing, travelling, and vacation-enjoyment tips to minimize your stress and learn "How can business travel like a pro?"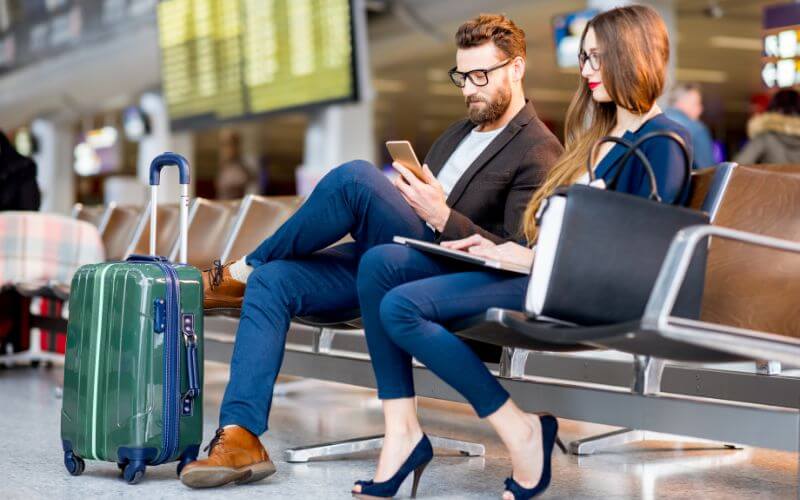 How can I make my business travel better?
Anyone with experience with business travel knows how stressful business travels or even temporary job relocations can be. There are many things to organize, like deciding what to do with your belongings, taking care of your property, arranging tickets, packing your bags, and locating lodging.
Also, as a woman, travelling solo can be less safe. Two of the most valuable women's business travel tips are letting your family or friends know where you are staying and being careful with the places and the time.
Business travel may be enjoyable and exciting when considering the places you can visit. Many things can be done to improve the experience and ensure getting the most out of business travel.
There are the new business travel tips 2022 for optimizing business travel, including business travel safety, whether you are travelling on foreign or local business travel. Here are some of the essential business travel recommendations for your upcoming trip.
What are your top 10 travel tips?
If you ask, "What advice do you have for someone travelling for business?" we have summed up the tips for frequent travellers who are mostly travelling for business.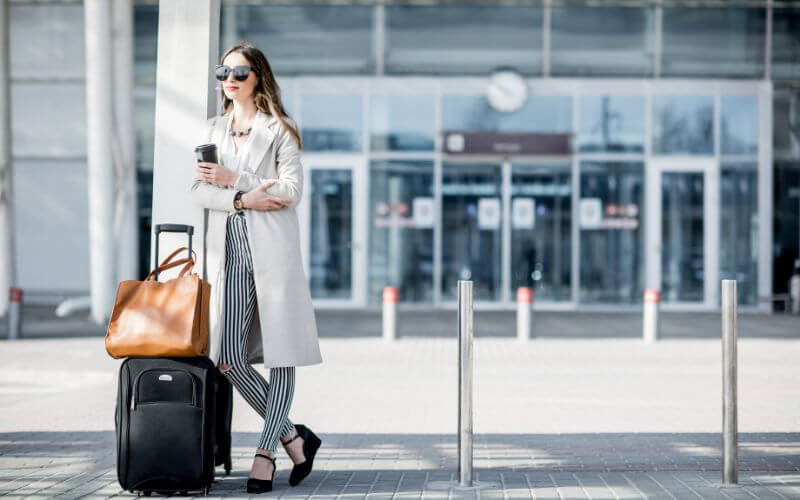 1- Which bag to use?
According to frequent fliers' business travel packing hacks, you should pick a lightweight suitcase. Remember to keep it compact to fit in an overhead compartment on express flights. If you must check luggage, you cannot switch planes to get home more quickly or to avoid terrible weather.
There are primarily three travel bags that you can use. The first is a straightforward four-wheeled hard-shell carry-on bag. It can be a good idea to find a different colour to see it more accessible. It also need not be a well-known brand.
First thing first, it should be easy to carry. Additionally, people recommend finding a bag with linen or leather around the zippers, as plastic and rubber tend to break down with time.
2- Do not forget to self-care
On a business trip, hectic schedules and limited resources can lead to dehydration, especially if you travel to a location without a water bottle. Aircraft cabin pressure and dry air worsen the situation. Additionally, alcohol and caffeinated beverages contribute to dehydration and should therefore be limited.
One of the essential international business travel tips is obtaining sufficient, high-quality rest. Frequent fliers advise carrying sleep necessities such as a pillow, travel blanket, eye mask, and noise-cancelling headphones. These products could also assist you in sleeping not only on the plane but also in the hotel.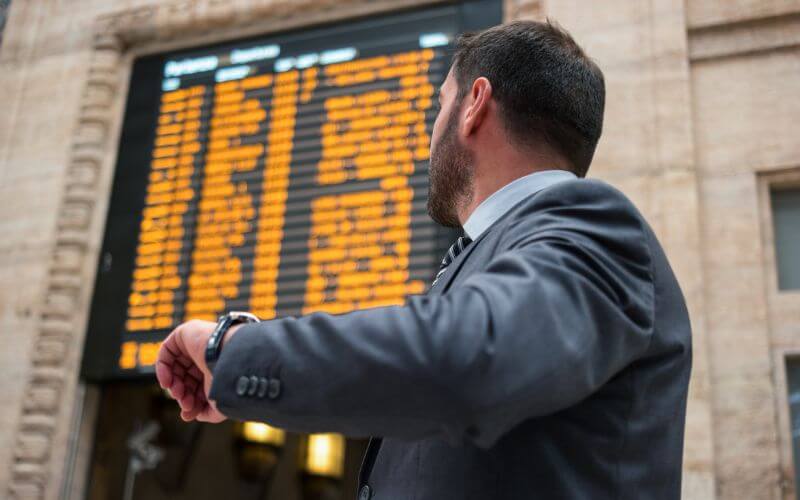 3- Checking
If you are a frequent flier in the United States, you should consider TSA PreCheck or Global Entry. You must complete a lengthy online application and schedule an in-person interview, but the benefits are worth it. It allows travellers to go through security without waiting for long hours. In addition, laptops, drinks, and shoes are often not required to be removed.
The majority of U.S. airports and airlines accept TSA PreCheck. Global Entry's five-year membership costs a bit more, allowing tourists to go through U.S. customs upon their return. Some mileage credit cards cover this fee as part of their membership benefits.

READ MORE: The Best Mobile Flight Tracker Apps
4- Where to stay?
When travelling for work, most people usually stay in hotels. Aiming to stay at Airbnbs while on vacation in easy-to-navigate countries could be better since it is a neat way to explore the city and understand the culture. Airbnbs are people's first choice when travelling with friends, as they are typically more advantageous for group plans. Yet, for a more comprehensive service, staying in a hotel could be better as one of the business travel tips.
5- Entertainment
Frequent fliers advise leaving your hotel room or conference centre to explore your location. The consensus is that you must also live in the moment when travelling for work! Consider how you can make the time between meetings productive. I'm adept at donning a swimsuit and hitting the water for 45 minutes, then dressing and sliding into my seat at the conference or convention in time to demolish business objectives."
To make the most of your business trips, you can read travel blogs, consult online reviews of exciting sites to visit and peruse tourist guides. These will make your work trip more pleasurable and less stressful by helping you locate must-see sights and top-rated restaurants.
If you cannot find time for recreation during your work trip, consider taking a personal day at the beginning or conclusion of your travels. Take a day off to see the place and tour at least one landmark.
6- Boarding passes
Aside from your passport, checked bag, and probably your work-related documents and electronics, do not forget to check your boarding pass and, of course, not forget it. Also, for your data not to get stolen, could you not share it on social media?
One of the business travel packing tips is this Is for all your trips, to have a binder for all these items.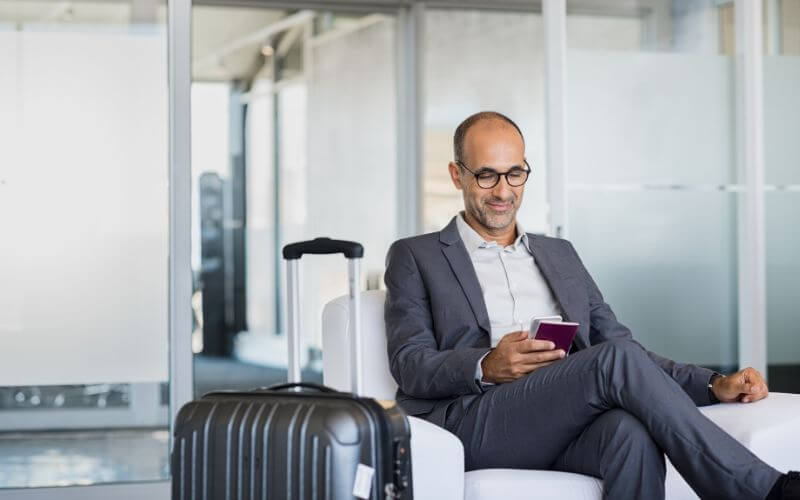 7- Waiting for your flight
Airport lounges may significantly improve the comfort of business travel. Additionally, some airport lounges provide showers, massage facilities, and sleeping pods. Some of them can even make you come earlier than you need for your flight!
Frequent flyers can gain airport lounge access by accumulating miles with a specific airline. Alternatively, check with your employer to see if the day pass lounge price is eligible for reimbursement. Lastly, any credit cards offer free or inexpensive lounge admission. Do not forget to stay hydrated before and during your flight to skip jetlag.

READ MORE: How to Secure Business Class Tickets Without Spending Much?
8- Dress up
Especially in professional settings, appearances are important. It applies to travel as well. Instead of wearing baggy sweats and flip-flops, you are more likely to receive better customer service if you are well-dressed. This is especially true if your flight is cancelled and you need to reschedule or if you are trying to upgrade your hotel room. You are also more likely to hail a taxi in a crowded city.
You should not wear a suit to your flight but remember that appearance matters. Whether you wear your clothes daily or not, you want them to appear clean and wrinkle-free. Always search for wrinkle-resistant fabrics for your business travel wardrobe.
Stretch jersey dresses are the perfect attire for travelling. They are airy, comfy, and resistant to wrinkling." Additionally, frequent business travellers advise packing darker business attire to conceal creases and grime. Travelling with a steamer is advantageous.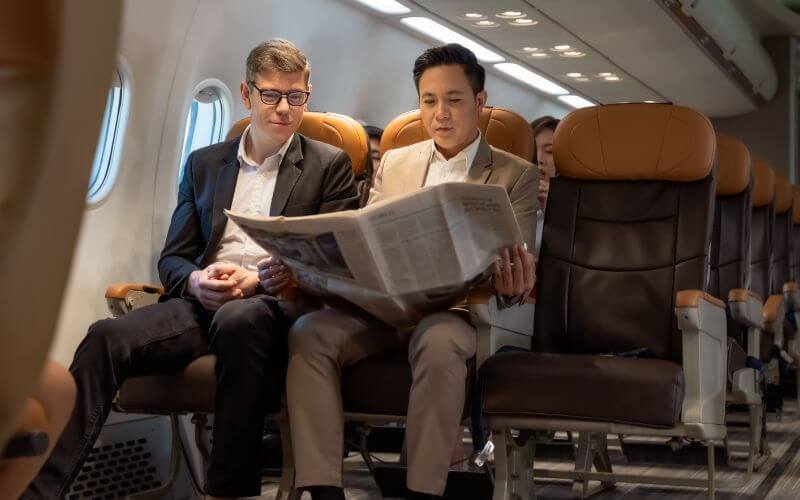 9- Take it or leave it
You do not know what could occur between security and your final destination nor how your body will react to flying. It would help if you were ready for anything. A painkiller for back or muscle discomfort or migraines, anxiety, tissues, an eye mask, and ear plugs in case you cannot calm your mind and need to concentrate and sleep.
The reason is that airlines don't usually provide blackout sleeping masks, and if you're stuck next to someone who won't turn off their laptop for eight hours, it will be much more difficult to fall asleep. Also, do not forget to take your business cards to your corporal travel.

READ MORE: How Do I Choose the Right Airline for Travel for Business?
10- How to go to the airport?
After your flight, rest is much needed when you also consider you have to work. If you wish to arrive at your hotel in quiet and privacy, this is the point at which we join the scene. You have arrived at the proper location for a luxurious and hygienic transfer, excellent service, and no hidden expenses. After your flight, let us whisk you off the ground and to your hotel.

Read our business travel tips and have a safe trip!
You might be interested
Browse Airports for Airport Transfers