After the last 2 years, what many people have missed is probably a relaxing, beautiful beach holiday, either solo or with loved ones. Miles long sand beaches with blue waters alongside palm trees, or maybe a Mediterranean little fishing village with turquoise water is the meaning of summer usually for most people.
Are you a fan of White beaches and swimming side by side the sea turtles in warm waters ?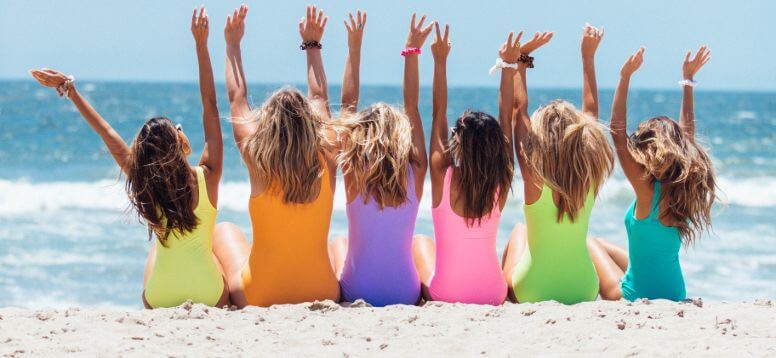 Or do you prefer an adventure on surfing beaches? Do you like diving and discovering coral reefs? Do you prefer City beach or natural reserves? Beaches with clear water, topless beaches, white sand beaches, you name it…Everybody has a type of beach, and the sun, sea and some sand is all we need sometimes.
Let us look at some of the best beaches in the world from Maldives to the Mykonos!
1- BORA BORA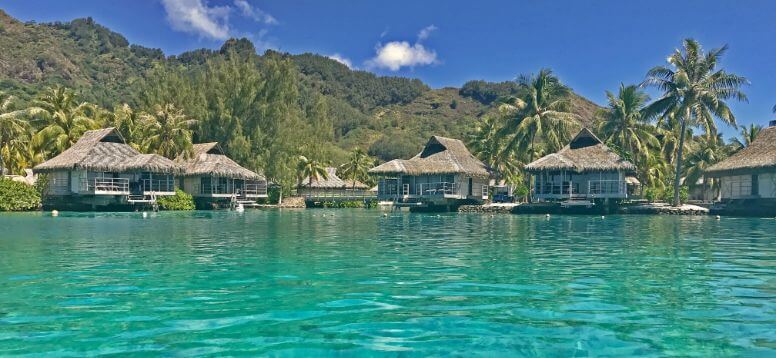 BORA BORA is clearly on the top of the list of the most beautiful beaches in the world. The French Polynesian island is famous with its 6 miles long, 3 miles wide stunning beaches surrounded by green jungles and beautiful nature. Diving, snorkeling and sunbathing on this world famous beach sounds like a dream. Just like Xander Cage (Vin Diesel), from Triple X was obsessed with the idea of a holiday at BORA BORA, many people choose to enjoy a tropical holiday in this beautiful South Pacific island. The perfect paradise means clear blue waters, beautiful tropic jungles and amazing seafood at this magical island.
✈ Nearest airport: Bora Bora Airport
⭐ Maybe you're interested: Tips for Booking a Good Hotel Online - 2022 Guideline
2- MALDIVES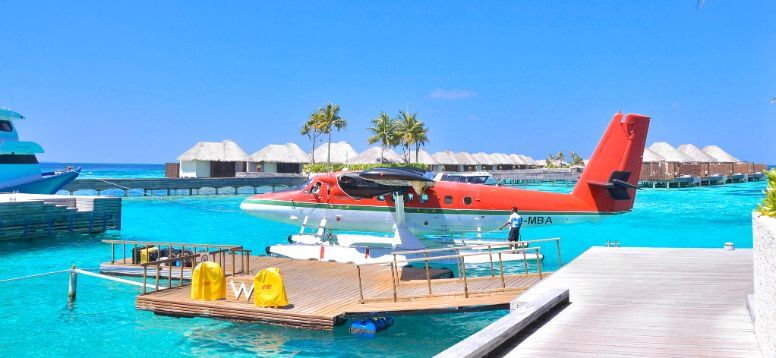 Consisting of beach villas and water villas on 22 atolls, and beautiful lagoons, Maldives has direct access to the sea for the sea lovers. While the larger island can be more entertaining, the smaller island on the blue waters can be quite private and exclusive. Coral reefs are fascinating to discover besides the great beach. The true colors of Mother Nature gathered in this beautiful destination. Maldives has been the most popular destination for honeymoons and anniversaries but it is also a great escape for family beach holidays.
Some of the best Maldives beaches are Kanuhura Maldives, which is perfect for families, solo travelers and also for couples. This is a large but also an intimate island which can be reached via seaplanes. Como Cocoa Island is also one of the most picturesque places on earth. You can find private villas where you have complete privacy and intimate holiday experience. These Blue waters allow you to have beautiful snorkeling experiences too. Situated in the best parts of the Indian Ocean, this island brings you the best sandy beaches of the Maldives.

✈ Nearest airport: Velena International Airport,
⭐ Really fun content: The Most Exotic Places to Visit in the World
3- SEYCHELLES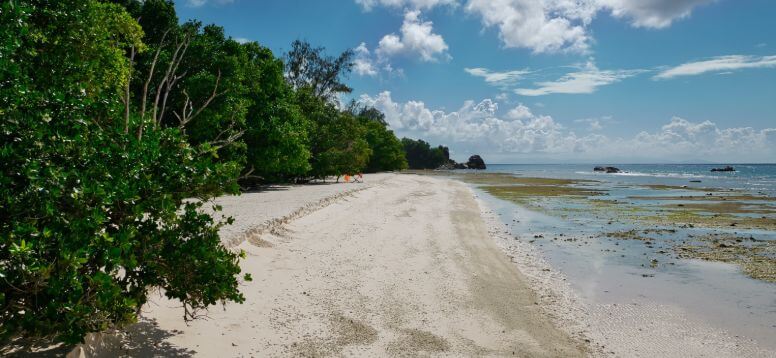 Situated in the Indian Ocean, formed by 115 islands in East Africa, Seychelles has one of the most beautiful beaches in the world. Famous with the best sandy beaches, Seychelles is a popular destination for both family beach holidays and romantic destinations. The beautiful landscape, the picture perfect background as well as the blue sea, Seychelles give you the best opportunities for the best beach holidays.
Either you are looking for a romantic couple holiday or a family friendly beach holiday; you will have many options to choose from in Seychelles. World famous hotel chains like Four Seasons and Doubletree Hilton have their home away from home designed for you, just with a little extra luxury.
Mahe is the largest and one of the most famous islands that is a tourist choice. Anse Major, Anse Intendance, Anse La Passe, Anse Louis, Anse St Sauveur, Anse Marron, Anse Cocos, Anse Volbert, Anse Forbans are many of the most beautiful islands that will give you the perfect relaxation. The islands give you opportunities to enjoy beach activities, snorkeling, and intimate beach experiences.
✈ Nearest airport: Seychelles International Airport
⭐ Useful info: Puerto Rico vs Dominican Republic Vacation for Tourists
4- LA PELOSA BEACH, SARDINIA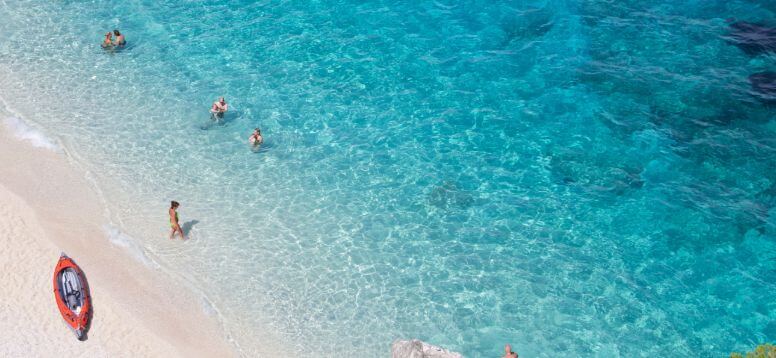 Sardinia, not only one of the most popular destinations for the best Italian food and best white wine, but Sardinia is also famous with its white sand beaches and La Pelosa Beach is one of them. 2km away from Stintino, La Pelosa is situated in Capo Falcone. Walking on the soft sand by the blue waters of the best Italian beaches while enjoying the best Italian food, one cannot think of a better holiday escape.
La Pelosa is a small and intimate beach consisting of 300 meters, with finest sand and shallow blue waters. Before you go there, you must be aware of the fact that you need to book your arrival in order to experience this beauty. This can also be an adventurous beach with its position of receiving wind.
So many beach activities can be done here from diving, kayaking, snorkeling, paddle boarding aside swimming. This little beach has some rules, don't forget to check before you go, but we can only say that it is totally worth the effort.
✈ Nearest airport: Alghero Airport
⭐ If you're wondering: Beaches Near London
5- MYKONOS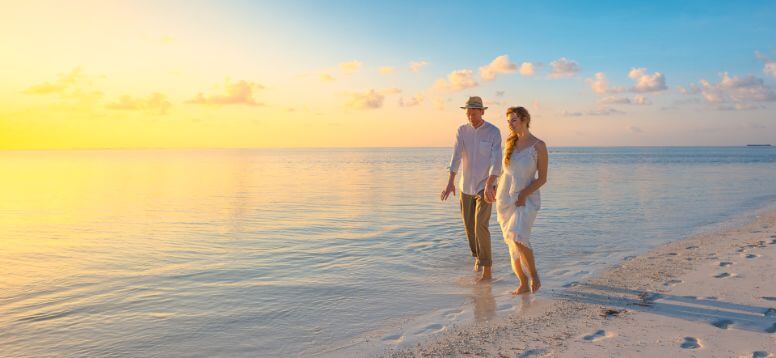 When it comes to summer destinations, no doubt Greece is one of the most popular destinations. Situated in the Aegean Sea, neighbor to Turkey and beautiful Turkish beaches World famous summer party island Mykonos is also the home of best Greek beaches. Formed by the most beautiful Mediterranean bays, Mykonos has beautiful bay beaches.
As well as the public beaches for budget holidays, In this famous Greek island you can find world's best private beaches as well as moderate and public beaches. The local people prefer Mykonos in September, unlike the high season for the tourists (which is more expensive) between June – August. Most commonly almost every beach has several Greek style tavernas, kiosks, water sport opportunities, shopping and friendly locals.
There are water taxis, busses to the island center. Ornos Beach, Agios Ioannis Beach, Platis Gialos Beach, Paradise Beach can be one the most famous beaches in Mykonos. Not to mention the Parade Beach which is the busiest private beach consisting of three famous beach clubs. The stylish Scorpios club is situated in the Paraga Beach, which is famous for the tourists and first time Mykonos visitors. If you are looking for a more quiet experience in this beautiful Mediterranean island, try the Lia Beach, which is great for snorkeling too.
The Kalafati Beach is the best for windsurfing and jet skiing as well as swimming of course. If you are looking for a more quiet Mykonos experience, try Agia Anna Beach 2, which has an amazing Naxos view. Swim in the blue waters watching more Greek Island views while also enjoying the best local tavernas in the Island. Fokos Beach is also another option, which is situated in the Northern side of the island that has a great taverna too. For your budget holidays we recommend you check the high and low seasons of Mediterranean holidays.
✈ Nearest airport: Mykonos International Airport
📍 Wherever you may choose to go, a beach vacation is sometimes the best relaxing retreat one can treat themselves. A beach break on warm waters either solo or with your loved one, or with your family, the blue waters and the soft sands are there to welcome and warm us anywhere around the world. Whether the Mediterranean sea or Aegean sea, or the Indian Ocean or the Red sea, let us celebrate life with a beach holiday.
Of course, there are hundreds of wonderful beaches in the world, but it is not possible to write them all at once. In the meantime, you can check out the new 'best beaches in the world' that we add to this content from time to time!
You might be interested
Browse Airports for Airport Transfers