Sri Lanka is well known for its tea plantations, majestic temples, national parks and historical sites included in the UNESCO World Heritage List.
But this small island in southern India also has impressive beaches, much appreciated for their beauty and water sports.
• Despite it's small size, Sri Lanka has countless stretches of sand.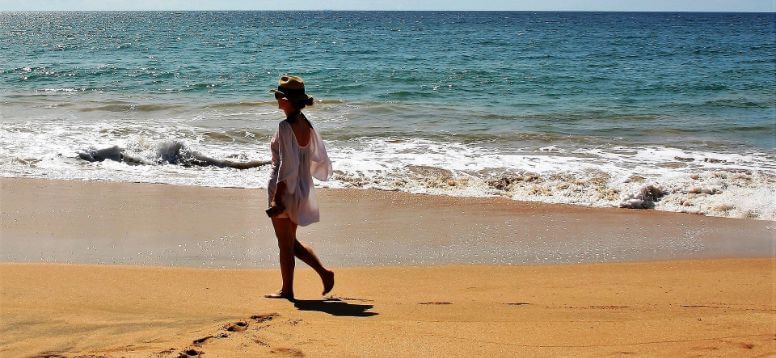 Does Sri Lanka have white sand beaches? From the wild coasts of the South coast to the great expanses of white sand in the East, the beaches of Sri Lanka Tourism are all different from each other.
Thanks to the alternation of the two east and west monsoons, you will always find a beach where you can put your towel down during your trip to Sri Lanka.
🏖️ Although any ranking is controversial, here are our favorite beaches in Sri Lanka. So put on your swimsuit and discover the most beautiful beaches in Sri Lanka!
1- Tangalle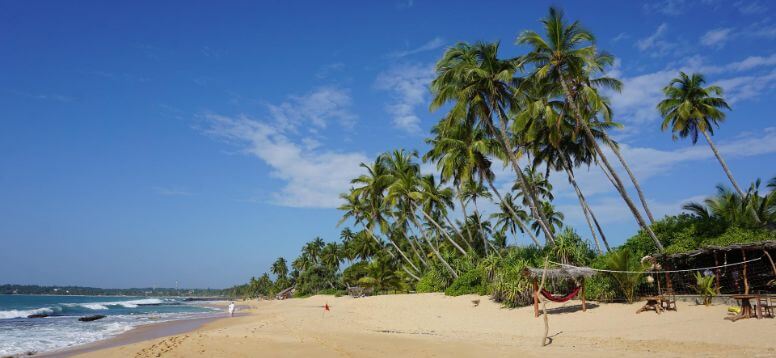 🏖️ Nestled on the southern coast of Sri Lanka between the city of Matara and the Yala National Park, Tangalle is a small port city renowned for its large wild beaches with translucent waters.
If you ask "Does Sri Lanka have clean beaches?", the answer is yes. Between its peaceful tropical coves and stretches of white and golden sand as far as the eye can see, Tangalla adapts to all tastes.
•Tangalla marks the boundary between the tropical coves that prevail on the south coast and the long, windswept and wave-swept beaches of the southeast coastline.
🏖️ Tangalle is surrounded by three distinct beaches:
• Goyambokka is one of the most beautiful beaches in Tangalle. This small white sand beach fringed with palm trees is sheltered from big waves, which allows swimming in complete safety.
• Marakolliya Beach is ideal for resting and enjoying the sun after a busy tour in Sri Lanka.
• However, if you say "Which beaches can you swim in Sri Lanka?" the answer is "swimming is almost impossible there, because of the raging waves, surfers will surely find their happiness there".
• At nightfall, sea turtles come to lay their eggs there.
• Rekawa Beach is a small, still very unspoiled beach about 10 km east of Tangalle.
• Very undeveloped, you will not find a restaurant or other facilities.
• Not very suitable for swimming because of the waves, it is nevertheless very popular for relaxation and idleness.
• Not suitable for swimming, it is the Sri Lanka best place to observe turtles.
2- Mirissa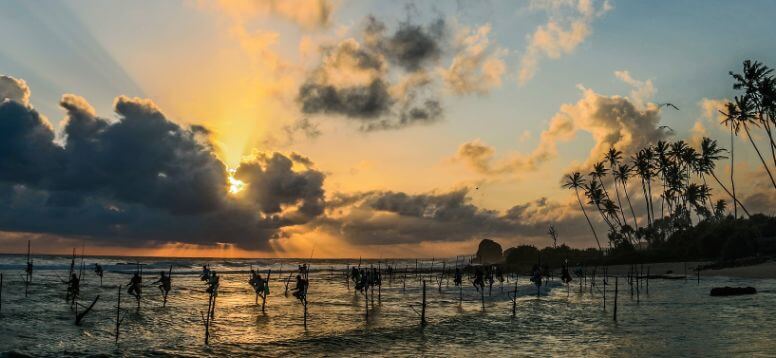 🏖️ Open a coconut, lie down in a hammock and let yourself be lulled by the sea breeze, forgetting the passing of time.
Welcome to Mirissa, an idyllic place 4 km southeast of Weligama, where only crazy people want to leave!
• Located 4 km southeast of Weligama, Mirissa is a small fishing village renowned for its magnificent beach, its turtles, its famous stilt fishermen and for whale watching (between December and March).
• Of the three major resort towns on the south coast (Hikkaduwa and Unawatuna are the other two), Mirissa remains by far the least developed and gives an idea of ​​what Unawatuna was like 15 years ago.
🏖️ The shore remains essentially the domain of coconut palms and most of the tourist infrastructures are concealed; in 2010, a multitude of illegally constructed eateries along the beach were quickly demolished by the authorities.
• Most of the tourist infrastructure, in particular the bars and restaurants, are hidden in the vegetation to preserve the authentic and paradisiacal setting of the beach.
Best Vacation Spots For Couples
• If you are a lover of good food, you will find a wide variety of tasty dishes in the many stalls, we particularly recommend dishes based on oysters, the region's flagship product.
• It is also the best place for whale watching.
• Mirissa is also conducive to many water and sports activities such as diving or surfing.
3- Bentota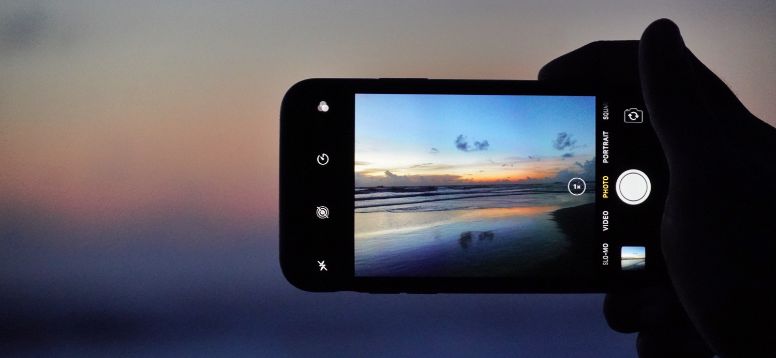 🏖️ Located on the west coast less than two hours south of Colombo, Bentota Beach is a family resort and very popular with tourists.
Yet there is something odd about Bentota's luscious stretches of sand – some of the finest in the country – especially when you look at the number of boutique hotels and knowing that the vast majority tourists come to Sri Lanka for sun, sand and surf: they are surprisingly deserted, especially at the southern end of this strip of sand.
• White sand lined with coconut trees and turquoise blue water, Bentota beach offers a perfect balance between entertainment and tranquility.
• The reason for this is not clear to us, but the fact remains that if the beaches of Hikkaduwa seem too crowded to you, you will undoubtedly find what you are looking for in Bentota.
• Furthermore, the calm waters of the Bentota Ganga offer other possibilities for entertainment – ​​although pollution is a problem in some places.
• Moreover, the calm waters of the Bentota are excellent for practicing various water sports such as scuba diving, surfing, jet skiing and fishing.
• It is also possible to take boat trips on the Bentota Ganga River.
4- Hikkaduwa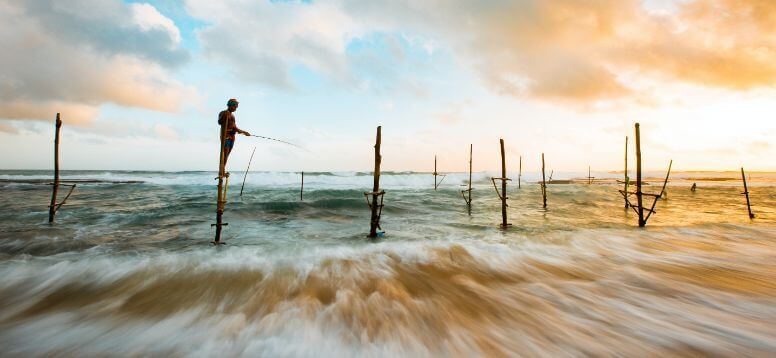 🏖️ Located on the southwest coast about a hundred kilometers south of Colombo, Hikkaduwa beach is one of the most important surf spots in Sri Lanka.
• Warm and trendy, this seaside resort attracts many surfers and divers from October to May.
• Hikkaduwa is also a paradise for divers, you will find a coral sanctuary with more than fifty varieties of multicolored corals as well as old English shipwrecks off the coast.
• Thrill seekers, opt for wakeboarding.
5- Unawatuna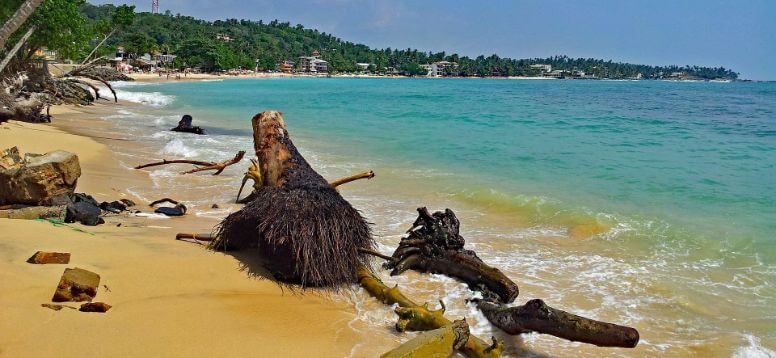 🏖️ Coastal town and suburb located on the south coast 5 kilometers from Galle, Unawatuna beach is a popular stopover for holidaymakers wishing to enjoy a seaside stay not far from the capital.
Its postcard decor nevertheless attracts many tourists, if you want to enjoy it wait until the end of the high season (between December and February).
Interesting Traditions Around the World
• Very popular with families for its wide range of accommodation and its many restaurants, Unawatuna offers various aquatic activities including scuba diving, exploring the wreck of the SS Rangoon, a ship stranded off the bay or even enjoying the seabed and magnificent corals during a snorkeling session.
• It is also possible to go surfing there, even if the waves do not equal those of Hikkaduwa.
6- Uppuveli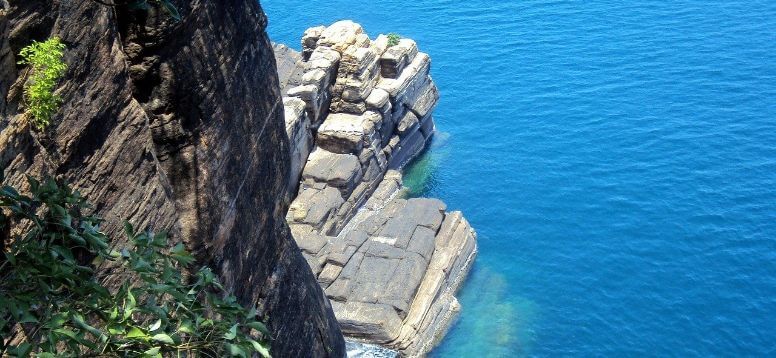 🏖️ Located on the east coast of the island, 6 km from the center of Trincomalee, Uppuveli beach invites you to discover its large expanses of fine sand and its peaceful atmosphere.
Stretching over several kilometers, the seaside resort of Uppuveli is ideal for lazing around and swimming and for travelers who have come to enjoy nature away from the horde of tourists.
• Active travelers will not be disappointed with the detour, however, as the seaside resort also offers many activities: scuba diving, snorkeling among sharks and turtles, boat trips during the migration of whales and dolphins, and bike rides.
• Not far from there, you can also discover it on the nearby beach in Nilaveli, the marine reserve of Pigeon Island.
7- Passikudah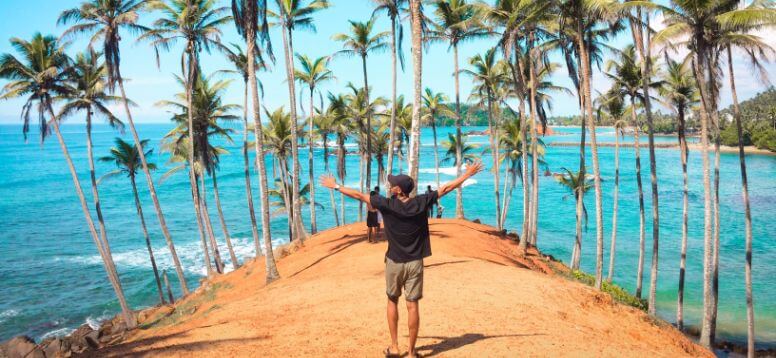 🏖️ Located on the east coast of the island about 45 minutes by car from Batticaloa, the seaside resort of Passikudah is one of the most beautiful beaches in Sri Lanka.
• Stretching over nearly 4 kilometers, Passikudah is a superb white sand beach suitable for swimming and many water activities such as scuba diving in the various wrecks off the bay.
• A booming seaside resort, Passikudah offers a wide choice of luxury hotels with private beaches, where you can perfect your tan without fear of being bothered by beach boys or prying eyes.
8- Arugam Bay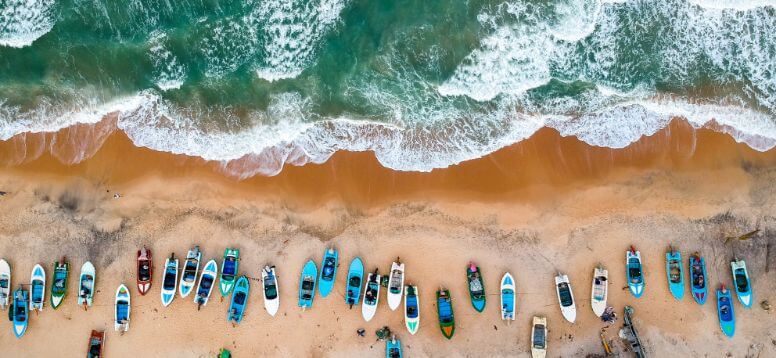 🏖️ An essential passage located in the south-east of Sri Lanka, 8 hours by road from Colombo, Arugam Bay is a modest fishing village renowned worldwide for its surf spots, indeed, if you say "Which part of Sri Lanka has the best beaches?" It is ranked among the 50 best beaches in the world for practicing surfing.
• A lovely crescent-shaped sandy bay, Arugam Bay is known for its point break, considered by many to be the best surf spot in the country.
• During the low season (from November to April), the place becomes very quiet and many establishments close, but the period can be very pleasant with few tourists and green landscapes.
• However, Arugam Bay is not limited to surfing, the village has many trendy restaurants and bars, temples and many typical wooden houses, allowing the place to retain its authentic character.
• It is also the starting point to reach the surrounding national parks such as Kumana National Park or Yala.
9- Kalpitiya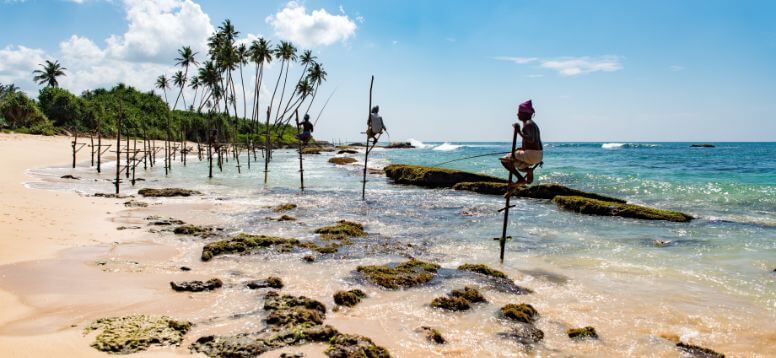 🏖️ Located at the northwestern tip of Sri Lanka, Kalpitiya Beach is a haven for kitesurfers.
Long unknown to visitors, its preserved setting and its incredible biodiversity nowadays attracts many travelers.
• You can see sea turtles, dugongs and a wide variety of fish.
• In addition, Kalpitiya has many interesting sites to discover during your stay in Sri Lanka, we particularly recommend visiting the Dutch fort of Kalpitiya, the Church of St Anne or Vella Island, one of the kitesurfing spots. best known in Sri Lanka.
• Despite its small size, Sri Lanka has many beautiful beaches.
• You will certainly find a beach to satisfy all your desires during your next trip to Sri Lanka.
• So which one suits you the most?
10- Jungle Beach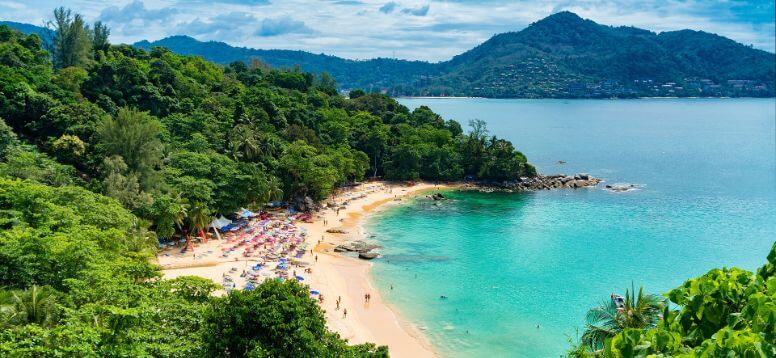 🏖️ Located about thirty kilometers from Trincomalee, Jungle Beach is the beach for adventurers par excellence.
• What I love about this place is that it is only accessible by foot and there are no resorts to obstruct the view.
•To access this beautiful ribbon of white sand, two solutions are available to you: either you walk in the middle of the jungle for about 15 minutes, or you reach the beach by boat.
• Both are worth a detour. Jungle Beach is aptly named.
• It is one of the few places in Sri Lanka where one can relax on the sand while listening to the powerful sounds of the insects, birds and mammals that inhabit the rainforest.
You might be interested