Especially if you have a three-day travel plan in Cappadocia, you have time for fairy chimneys, valley tours, balloons and delicious wines! If you are planning a 3-day holiday in Cappadocia, we have prepared a guide that tells you about every day and gives you great advice. Pack your suitcase and take note of our recommendations…
Is Cappadocia touristy?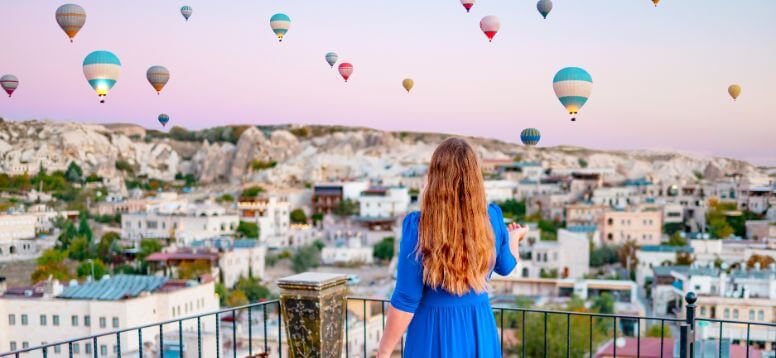 Cappadocia is a place of whirling volcanic-rock landscapes that appear to have been fashioned by naughty elves. However, it results from wind and water gradually whittling away at the rock. Humans have lived in this area since the Bronze Age, digging beneath the soft volcanic rock to survive.
The Cappadocian towns carved into the hillsides, the Byzantine-era rock-cut churches with spectacular paintings, and the labyrinthine underground city where early Christians sought refuge from invaders are the main tourist attractions.
Also, it receives the most tourists, it is overly touristy, and it is centrally positioned for all Cappadocia activities. Additionally, it boasts a large selection of quality hotels.
🔴 Maybe you are interested: Things to Do in Istanbul - Dozens of Touristic Preferences
How can I spend three days in Cappadocia?
Cappadocia is another realm, with hot air balloons ascending before dawn, magnificent rock formations that appear to come from another planet, and underground towns that challenge rationality.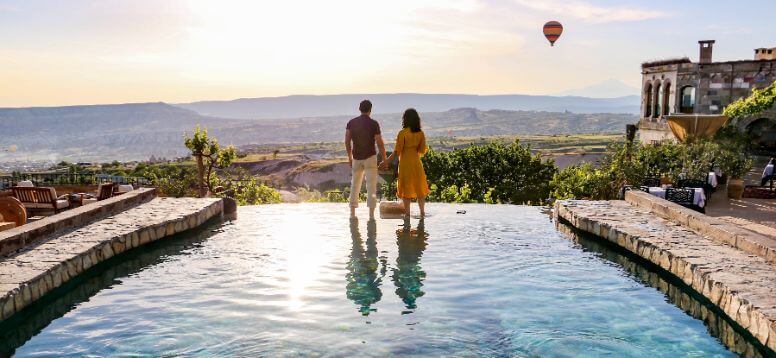 The hot air balloon ride is one of the true Cappadocia tour highlights. All balloon trips in Cappadocia are expensive. At the beginning of the Red and Rose Valley trek lies Sunset Point. It is the most popular location in Cappadocia for sunset viewing. Also, it is fantastic to see the sunrise over the fairy chimneys, slowly altering the shades of the countryside, and watch the excitement on everyone else's faces in hot air balloons.
Two popular day trips depart from Goreme, the Green Tour and the Red Tour, which you may include in your two-day or three-day Cappadocia itinerary.
The Green tour is highly recommended due to the inclusion of Derinkuyu Underground City and Ihlara Valley on tour.
Among the deep valleys, the Cappadocia area boasts a variety of hills with outstanding vistas, providing a beautiful glimpse of nature's power.
The alternatives are Paşaba Monks Valley, Pigeon Valley, Love Valley, Red, and Rose Valley.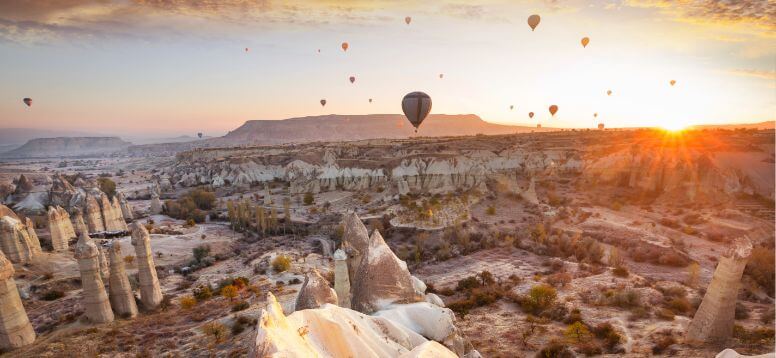 Also, hiking the Red and Rose valleys is a Cappadocia city must do. Another fascinating location that you should visit is a Cappadocia museum, the Göreme Open Air Museum, located around 20 minutes outside of town.
For the cuisine, you should eat in a Cappadocia restaurant. Cappadocia's signature dish is "testi kebab," which translates as "pottery kebab," That is just what it is. Essentially, it's a beef stew with vegetables cooked within a sealed clay pot that they smash over the fire in an exhilarating method.
About getting around in Cappadocia, renting a car is reasonable. Landing at Nevşehir or Kayseri Airport, choosing private transportation, or renting a car will be better when you think about Cappadocia distance lengths.
Day 1 in Cappadocia
On your first Cappadocia day, you can tour the historical Goreme. Cappadocia Goreme is filled with surprises, from fairy chimneys to exciting rock formations and mysterious underground houses. You will feel like you are on another planet.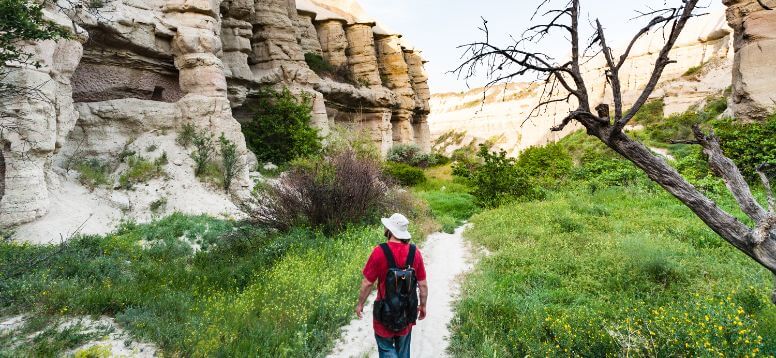 ✓ Try to spend your first day exploring the area surrounding your Cappadocia hotel and perhaps go a little farther to see restaurants and houses oddly carved into the rocky hillsides.
✓ You may choose between Viewpoint, Nature Little Kitchen, or Organic Cave Kitchen if you prefer to eat your dinner in a Cappadocia cave, to eat in.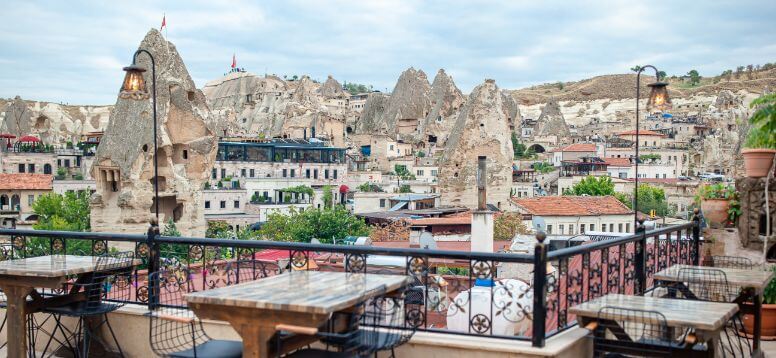 ✓ After putting your luggage in your room, planning a full day of Red Tour can be fun. It includes Goreme Esentepe, an open-air museum, multiple valleys, and a pottery workshop!
✓ Also, the Red Tour includes Uchisar Rock Castle and Love Valley. For a picture, stop or choose the best Cappadocia valley and take a lovely photograph, Devrent Valley and Pasabag Valley.
✓ You can explore and trek around Cappadocia's spectacular valleys, and ancient landmarks is a must-do activity when visiting this lovely city.
✓ You can hire a local private guide or join a Cappadocia bus group trip led by a professional guide. Numerous tour guides are freely accessible online or from your hotel.
✓ Whether you take the red tour yourself or through an agency, there are some sights you must include on your itinerary.
✓ Between Uchisar and Goreme is the Goreme Esentepe. This beautiful picture offers panoramic views of the village of Esentepe and the surrounding fairy chimney scenery, and you should add it here on your three days in Cappadocia list.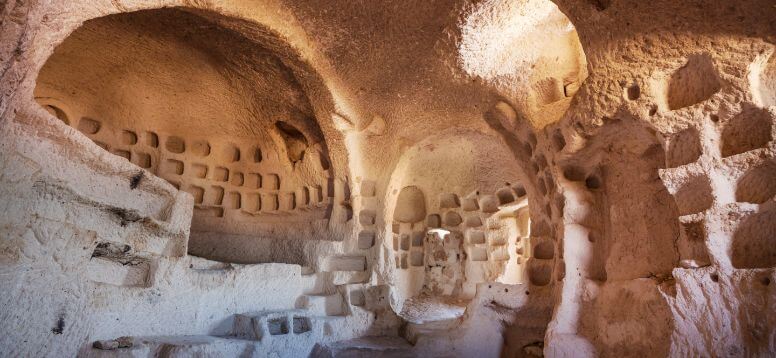 ✓ Especially between July and August, with the temperature being 32°C, clearer skies, and cooler Cappadocia weather will be on your side while you are touring. Goreme Open Air Museum is an outstanding collection of medieval churches and chapels.
🔴 You should read, Things to Do in Bodrum - Top 11 Attractions and More
✓ The location was a significant Christian learning institution. Monks Valley is known for its fairy chimneys with three heads. Devrent Valley is famous for its lunar-like scenery of miniature, pointed fairy chimneys.
✓ Avanos is a tiny village with a terracotta industry dating back to 3000 BC. In Avanos, you can attend a pottery workshop.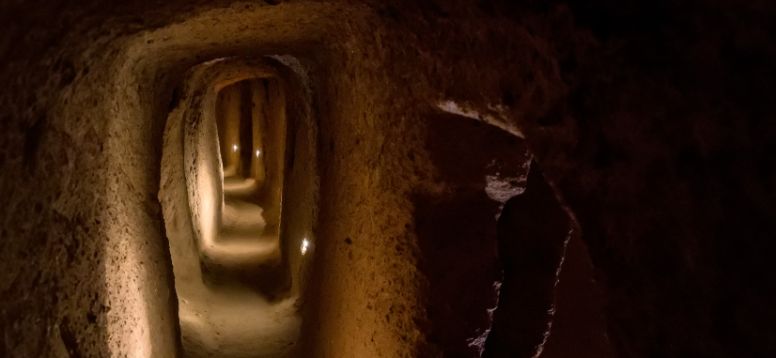 ✓ Galerie Ikman, Göreme's most famous shop, is on the bucket list of most photographing lovers visiting Cappadocia. The first rule is that photographs are not free, and you must obtain permission and pay to take them.
✓ The proprietor charges 50 lire (about USD 10) for ten minutes of photography there. It is suitable for the Cappadocia price range.
✓ To your list, you also need to add the Three Beauties, or Three Graces, three fairy tale chimneys near Urgup. It is Urgup's most recognizable item.
✓ After a long day of travelling, trekking, and maybe shopping, you can relax on your Cappadocia suite balcony with a romantic Turkish dinner.
✓Cappadocia is fantastic because, besides being a unique worldwide destination, it provides the typical Turkish hospitality and distinctive cuisine for which Turkey has become famous.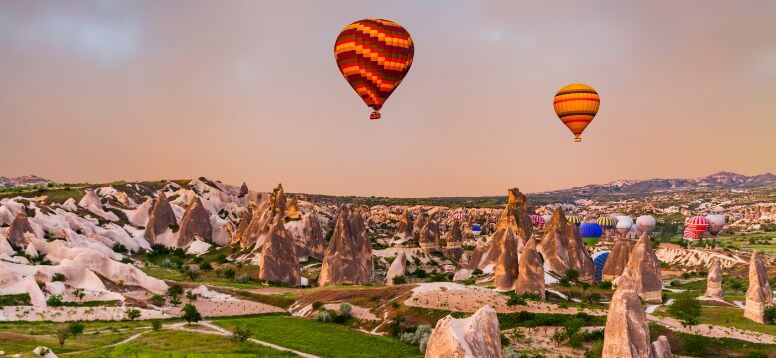 ✓ Suppose you wonder where to stay in Cappadocia for hot air balloon tours. In that case, Göreme is an excellent choice, as most launch locations are within walking distance of the most excellent hotels in Goreme Cappadocia. You may also travel without a car, as most of Göreme's regions are pretty walkable.
🏨 Kose Pension, Peace Stone House, and Cappa Cave Hostel are fantastic budget backpacking lodgings. Goreme Palace Stone Hotel and Falcon Cave Suites are two other budget-friendly hotels. While the Grand Cappadocia Hotel and Ottoman Cave Suites are considered mid-range hotels, the Cappadocia Cave Suites and Cappadocia Inn Cave Hotel are cheap luxury hotels.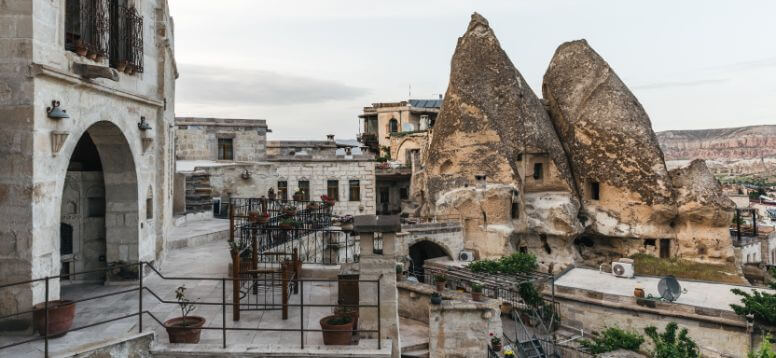 🔴 Also, a great guide: Tips for Booking a Good Hotel Online
Day 2 in Cappadocia
The stunning scenery of Cappadocia's sky filled with hot air balloons certainly will tempt you to visit. A Cappadocia hot air balloon flight is one of the most popular activities in Cappadocia.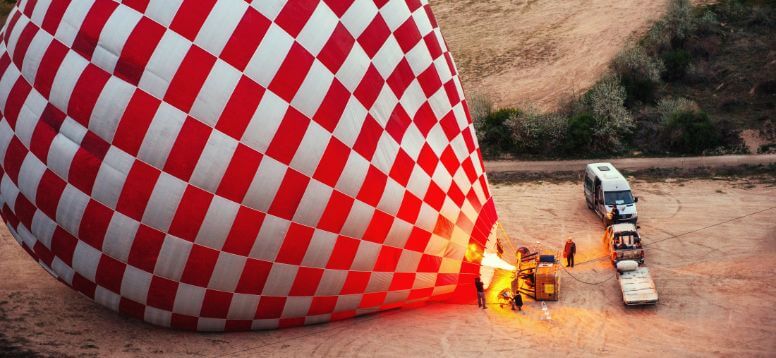 ✓ The experience lets you discover the city's magnificent environment from a bird's eye view. The balloon achieves a maximum altitude of 915 meters throughout the trip.
✓ For most people, a hot balloon ride is a once-in-a-lifetime event that everyone should have, and there is no better location than Cappadocia to do it.
✓ The experience begins exceptionally early in the morning and concludes just as early, about 8 a.m. Most hot balloon firms obtain authorization to fly before daybreak, but a minority do so after that.
✓ Three days in Cappadocia trip plan may be jam-packed with trekking and sightseeing, but there is still a need for adventure.
✓ A two-hour ATV Quad trip can be the perfect fit. Quad Safari is a popular choice among Cappadocia's best must-do items for anyone looking to get off the beaten path.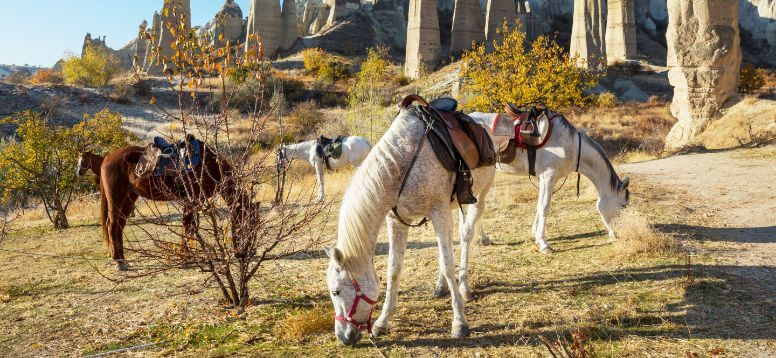 ✓ The adventure is enjoyable and exciting. You will drive through Cappadocia's beautiful valleys, hills, and rock formations. Adding a dash of adventure to your trip with horse riding will not harm you.
✓ You will spend two hours horseback riding among fairy tale chimneys and valleys in Cappadocia, breathing fresh Cappadocia air.
Day 3 in Cappadocia
It's almost time to return home from your three days in Cappadocia trip, so you need to snap some great Instagram photos with the hot air balloons. Another fantastic alternative is to hire a professional photographer who is familiar with all the city's most beautiful sites and is capable of shooting great photographs using drones.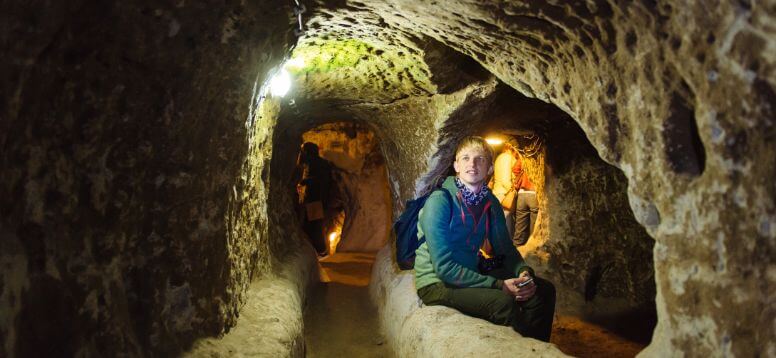 ✓ As for another tour, the Green Tour for the entire day, including multiple valleys, underground cities, and Uchisar Castle, is a great option.
✓ The green tour is all about discovering south Cappadocia's natural magnificence. Consider spending an entire day visiting fantastic underground locations.
✓ Like the red tour, the green tour includes many stops at historical and ancient places. For three days in the Cappadocia experience, you can combine yours to receive a comprehensive view of this magnificent city and its significant sites.
✓ You can also select one of them if you want a calm trip. On the Green Tour, there are several natural beauties to visit. After your long but beautiful tour, do not forget to eat in Kadıneli or Centre Restaurant.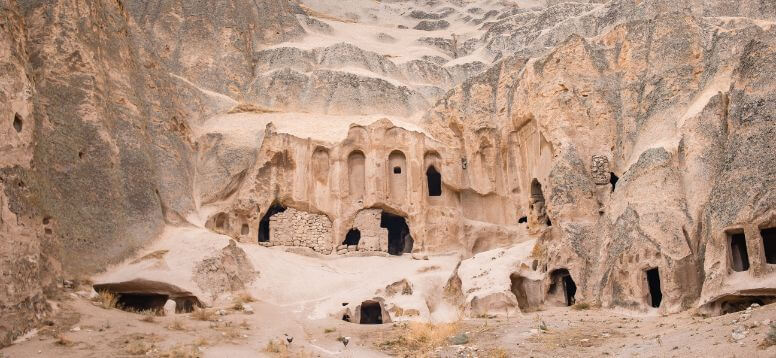 ✓ Messenger Valley is a valley near Ortahisar. Here, you may take a short hike through the breathtaking scenery. This valley is home to the world-famous Meskendir Church and its enthralling interior.
✓ Adding a hike to the Red and Rose valleys to your Cappadocia itinerary would be a fantastic value. Stunning rock formations characterize both valleys, hidden chapels cut into the hillsides, and tiny communities connected by winding roads.
🔴 If you are interested, 14 Most Popular Historic Sites in the World
✓ The two-hour journey through the Red and Rose valleys concludes at Cavusin settlement. Following the two-hour climb, you will arrive in Cavusin Vallet, one of the region's oldest communities.
✓ The town is famed for the Church of John the Baptist, Cappadocia's largest cave church.
✓ Cappadocia is home to 36 underground cities founded by Christians to avoid harassment. Derinkuyu Underground City is the largest Cappadocia underground city, with sixteen stories and a capacity of up to 20.000 people.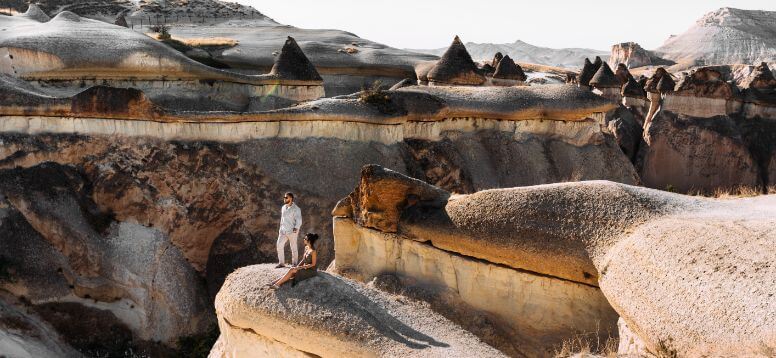 ✓ On the borders of Goreme, the Pigeon Valley offers some of the most excellent views. Pigeon Valley is called after the centuries-old pigeon homes cut into the cliff walls.
✓ Historically, farmers around the region relied heavily on pigeon excrement as fertilizer for their crops. The village of Uchisar is located in the heart of Cappadocia and is the highest point in the region, and you should add it here to your three days in Cappadocia list.
✓ The settlement is called the Uchisar Castle. Cappadocia and its surroundings provide excellent views. There are several cave houses to explore on the way up.
✓ Love Valley is famous for its massive up to 40 meters high and naturally created structures. According to legend, these formations date back between 3 and 9 million years and were produced due to a volcanic eruption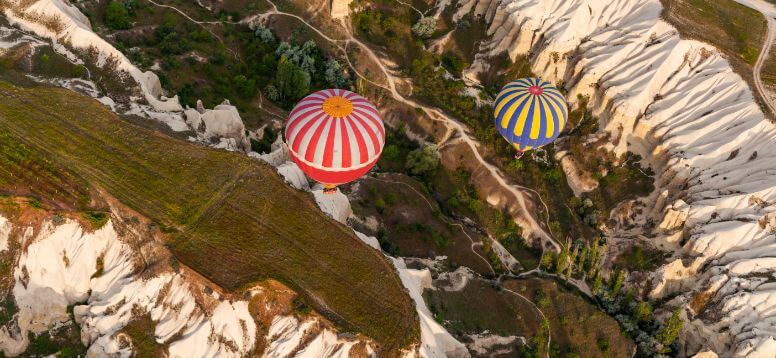 ✓ The Whirling Dervishes is a well-known Turkish experience that can be watched in several places around Turkey, including Istanbul.
✓ In Cappadocia, the religious enlightenment event takes place in a historic caravanserai formerly used on the Silk Road. You will be charmed by the show's fascinating nature. You should add watching the show on your three days in Cappadocia list.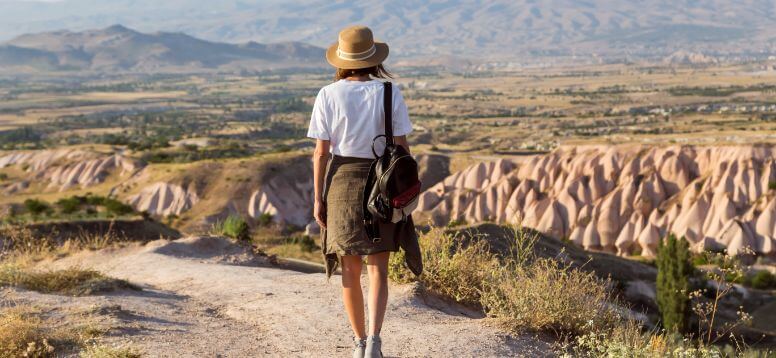 ✓ While Uçhisar boasts many resorts and activities, it is calmer than Göreme, making it an excellent alternative for those searching for family-friendly Cappadocia lodging.
🏨 Anatolia Pension, Maze of Cappadocia, and Cozy Villa Cappadocia are all fantastic alternatives for budget-friendly accommodations. While Sakai Konak Cappadocia and Hermes Cave Hotel are mid-range properties, Harem Cappadocia and Millstone Cave Suites are cheaper. Wish Cappadocia and the Aurora Cave Hotel were more suitable for a family vacation!
How much does a trip to Cappadocia cost?
⭐ A seven-day journey to Cappadocia costs on average $2,141 for a solitary tourist, $3,845 for a couple, and $7,209 for a family of four.
Cappadocia hotels range in price from $44 to $140 per night, with an average of $82, whereas most vacation homes cost between $110 and $380 per night.
The average cost of a flight from anywhere globally to Nevsehir Airport (NAV) is between $1,183 and $2,766 for economy class and $3,712 to $8,680 for first class.
We recommend budgeting between $30 and $80 per person each day for transportation and dining at local establishments, depending on the activities.
The cheapest vacation to Cappadocia is around $125 per person per day for those prepared to take standby flights, cope with inconvenience, and otherwise save travel costs.
These low-cost rentals must be reserved in advance and may not be located in the most desired regions. Rooms in one-star hotels start at around $37 for one night.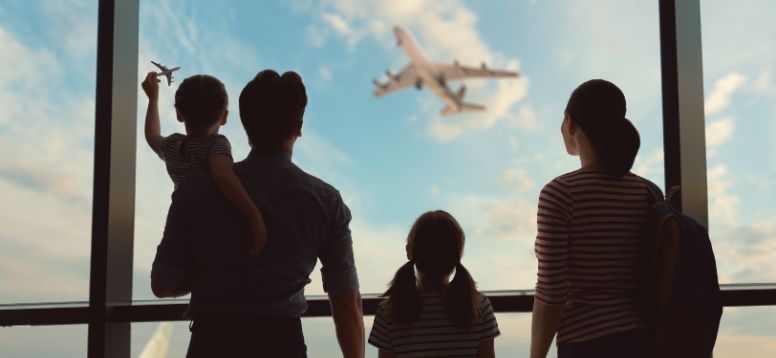 The closest airport to Cappadocia
Nevsehir Airport and Kayseri Airport are the two closest airports to Cappadocia. Public transportation will add more to your tiredness after your Cappadocia flight or returning home after three days in Cappadocia.
🔴 Read more,15 Free Things at Airports - You've Probably Never Heard
A private shuttle service is a fastest and most reliable method of transportation that you can use from the airport you land to your hotel. We guarantee a %100 refund and a secure transfer following your flight.
⭐ Visit Airporttransfer.com to make it easy to organize private transportation.
You might be interested
Browse Airports for Airport Transfers